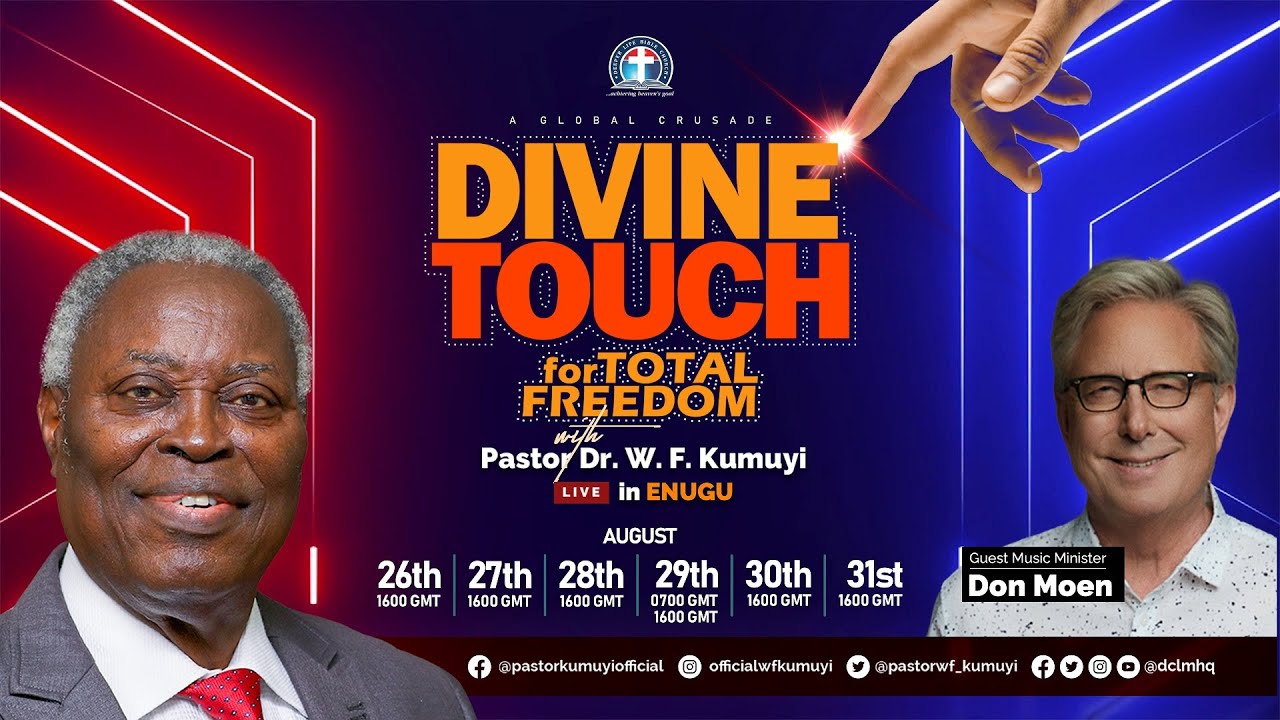 Deeper Life Divine Touch Global Crusade 31 August 2021 – Grand Finale
Watch Divine Touch Global crusade Grand Finale with Pastor W.F. Kumuyi and Don Moen Live from Enugu state
Divine Touch Global Crusade 31st August 2021 with W.F. Kumuyi
Fear not, O land; be glad and rejoice: for the Lord will do great things.
If you just gave your life to Jesus Christ, please click on the link below to help assist you further in your walk with the Lord. https://dclm.org/connectwithchrist
Watch below;
Watch Day 5 Programme
Deeper Life Divine Touch Global Crusade 31 August 2021 – Grand Finale
Deeper Christian Life Ministry presents A Global Crusade tagged, DIVINE TOUCH FOR TOTAL FREEDOM with Pastor Dr. W. F. Kumuyi Live in Enugu.
Date: 26th – 31st August 2021.
Guest Music Minister: Doen Moen
Also Read Today's DCLM Daily Manna Devotional for Tuesday 31st August 2021.
TOPIC: SWEET DIVIDENDS OF FRIENDSHIP
TEXT: 1 Chronicles 12:16-22
KEY VERSE: "For at that time day by day there came to David to help him, until it was a great host, like the host of God." – (1 Chronicles 12:22)
DCLM Daily Manna 31st August 2021 Devotional Message:
The first president of the United States of America, the Bible-believing George Washington, declared in 1783: "Be courteous to all, but intimate with few, and let those few be well tried before you give them your confidence. True friendship is a plant of slow growth and must undergo and withstand the shocks of adversity before it is entitled to the appellation."
Our Daily Bread 31 August 2021 Devotional – Sharing Jesus
David's relationship with people establishes Washington's insight. Although he enjoyed the fidelity of family and the loyalty of some 600 associates who stuck to him as he fled from Saul, the son of Jesse began to get more old friends added to him when he became the king following the death of Saul. The Bible records in the text that several hitherto estranged acquaintances initiated moves to return to David. The reason was that he leaned on the grace of heaven to treat all he accosted with respect and the fear of God.
At a time he was grieving for the seizure of his wives and the burning of his property and that of his warriors, David made friends with a foe and fed him. When some of his warlords rebelled against his decision to share the spoils of war with those who were not at the battlefield, David ignored them and let the booty go round. He gave succour to those in debt, distress and discontentment. David nurtured them as "plants of slow growth". Finally, "day by day there came to David to help him, until it was great host, like the host of God."
Deeper Live Divine Touch Global Crusade 30 August 2021 – Day 5
The one who would attract friends to himself is the one who has the mind of heaven. He must show himself friendly and willing to serve others as did our Lord Jesus Christ. By so doing, he will enjoy the spiritual and physical dividends of true friendship.
THOUGHT FOR THE DAY: Friendship is sweet with Christ, our ultimate Friend.
THE BIBLE IN ONE YEAR: Psalm 68-71
Creflo Dollar Daily Devotional Tuesday 31 August 2021