Your Daily Prayer
January 6, 2023 Your Daily Prayer For Friday
Your Daily Prayer Today – "A Prayer for Gratefulness"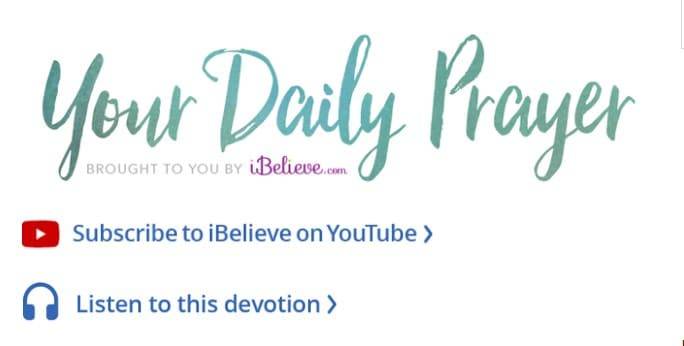 January 6, 2023 Your Daily Prayer For Friday
Praying is such a vital tool for Christians to take hold of the power and strength God wants to give us. Use our daily prayer devotional to focus your mind and heart on the love of God at the beginning of each day and throughout your day.
Welcome to Your Daily Prayer Today – A Prayer for Gratefulness. May God bless you as you study and pray.
Bible Verse:  "The LORD is my strength and shield. I trust him with all my heart. He helps me, and my heart is filled with joy. I burst out in songs of thanksgiving." Psalm 28:7 NLT
A Prayer for Gratefulness
By Meg Bucher
Positive thinking is important, but without proper roots, we may force our view of what is good in front of what God proclaims "good." Gratefulness intersects with positivity in a realistic way which allows us to see what we currently have and entrust God with what is to come. He promises hope and a future for us (Jeremiah 29:11) and a life that is more than we can ask for or imagine (Ephesians 3:20).
The psalmist wrote, "the LORD is my strength and shield." Strength, in context to the Hebrew word translated from the Old Testament, is defined with words such as strength, power, might, and stronghold. But it's also defined with words like stubborn and strong-willed. (NIV Exhaustive Concordance Dictionary.) The LORD is strong …He will defend us by His will, which cannot be thwarted by any means. He is a protective shield. Our lives are safe under His arms, yet often we walk around in fear and worry. Instead, as the psalmist wrote, we can trust Him with all of our hearts. He helps us, and our hearts are filled with joy. We burst into prayers of thanksgiving for His dependable presence in our lives.
Read More Daily Devotional Message on DAILYDEVOTIONAL
Let's pray: Father, Praise, glory, and honor to You! You are our strength and our shield. When we do not want to wake up in the morning, You remind us why we are loved, worthy, and important. Father, when life is too hard and sad to face, You lift us up with Your strong arms to walk through those days until the season changes. Thank You, Father, for being our strength. Thank you for Jesus, through whom we have access to the power and strength of Your Holy Spirit! Holy Spirit, come into our lives with a fresh wind of inspiration and power to strengthen us as we walk through our daily lives. Give us the wisdom to see things through Your perspective, Father, and the discernment to know which way to go, what to say or not to say, and the next right thing You will for us to do.
Father, You give us the strength to forgive. God, You have the power to dissolve misunderstandings and let the truth shine stronger than the confusion. We pray for the blessing and strength of Your clarity today, God. Strengthen us to forgive, give us another chance, and reconcile what seems impossible. You are strong enough to accomplish what we cannot, Lord. Do it.
Father, thank You for being a shield for us. There are dark elements surrounding us in the world, some we can see, and others are only felt. But God, You see what's happening, and You are in control. Thank You for protecting us, both from what we can see and the bulk of what we cannot. We pray today You would shield us from negative thoughts, Father. Shield us from lies that lead us to believe falsities about ourselves and others. Give us clarity to see life from Your perspective, God. Shield us from our enemies and from enemy attacks, Father. What we cannot see coming, You do. So, help us to obey You daily, and walk in Your will so that we rest under the covering of Your shield, God.
Father, when we want to know outcomes and yearn for justice, we choose instead to trust You with all of our hearts. You help us, and our hearts are filled with joy. We burst out in songs of thanksgiving, God, for who You are and who we are in Christ Jesus. Give us hearts full of gratefulness, Father, for who You are, and Your faithful love for us expressed in so many ways daily.
In Jesus' Name, Amen.