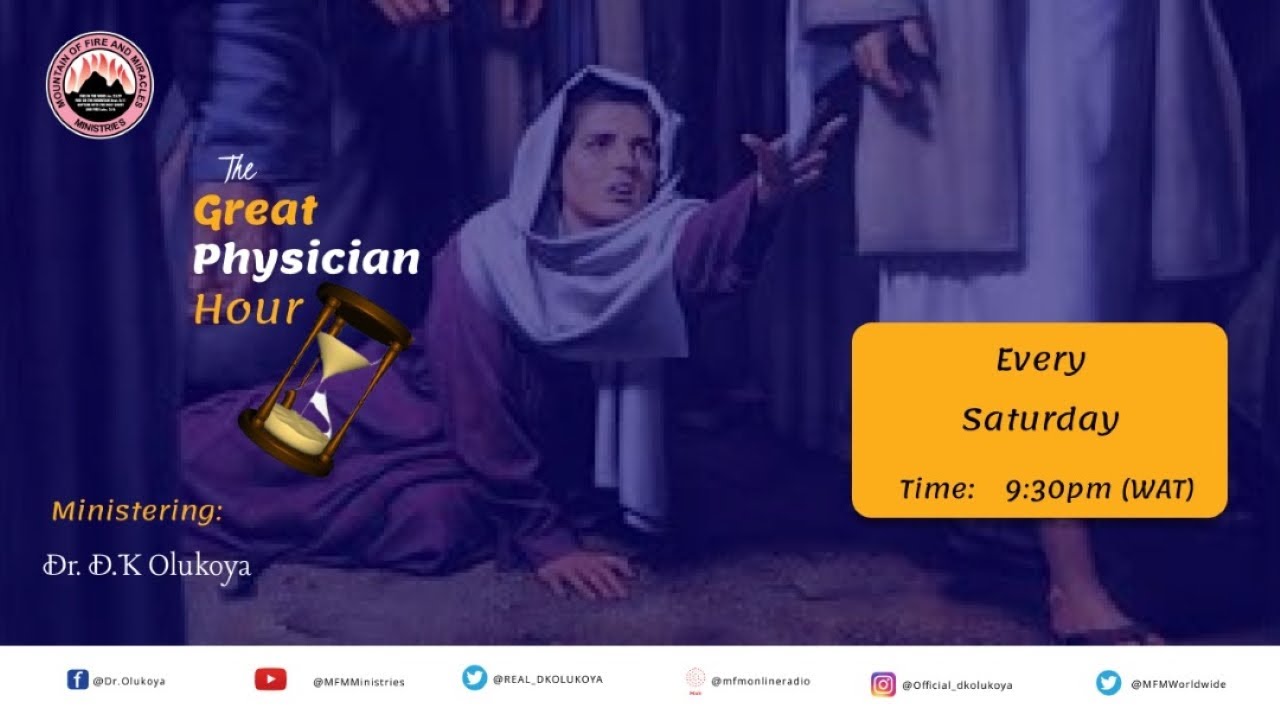 MFM Great Physician Hour 3 July 2021 with Pastor D. K. Olukoya
MFM GREAT PHYSICIAN HOUR 3rd July 2021 MINISTERING: DR D. K. OLUKOYA
You are watching Livestream MFM Great Physician Hour 3 July 2021 with Pastor D. K. Olukoya at 9:15pm. May the Lord bless you as you watch.
Watch below;
MFM Great Physician Hour 3 July 2021 with Pastor D. K. Olukoya
Read MFM Daily Devotional 4 July 2021 – Spiritual Growth (II) Written by Pastor D.K Olukoya
TOPIC: SPIRITUAL GROWTH (II)
Fire Scripture: Matt 13:1-23
MFM Daily Devotional 4 July 2021 Outline
In continuation of the message on spiritual growth, it will be important to know that certain things are required of every believer who truly desires to grow. You must embrace a new way of life, putting away your former ways of doing things, relating with people, talking. A total change from who you were to an entire new being. Like a growing eagle, you shed of old feathers to grow new ones.
But here you keep growing until you meet with Jesus. Jesus started by saying that except you abide in Him, you can do nothing. This emphasises your spiritual powerlessness except you are connected to the Source, the Vine. So stay connected! Today's fire scripture also stresses the importance of growth, using the image of the farmer planting the seed. Jesus gave us the interpretation of this parable. Hence, we can see the different types of soil and growth.
The seed is the word of God that fell by the roadside, rocky soil, among the thorns and on good soil. The soil is the human heart. What is the condition of your heart? You cannot grow except you are rightly fed. The word of God is the Bread of Life. You need it for strength and stamina, and the divine watering to nurture you into healthy and productive stage. No wonder the seeds that fell by the roadside were easily pecked of by birds of this world; it gained no root at all.
The one on the rock couldn't either, because that heart is not divinely pliable, referring to hardhearted, obstinate and unbroken Christians. Sad enough, the ones that fell among the thorns were choked up by the cares and worries of this world. How can you be carnal, yet desire spiritual growth? Here comes the big difference: those that fell on the good soil yielded in threefold. That is a heart that loves God and his fellow humans. CONTINUE READING