Today Livestream
MFM Manna Water Service 23rd September 2020 Wednesday Livestreaming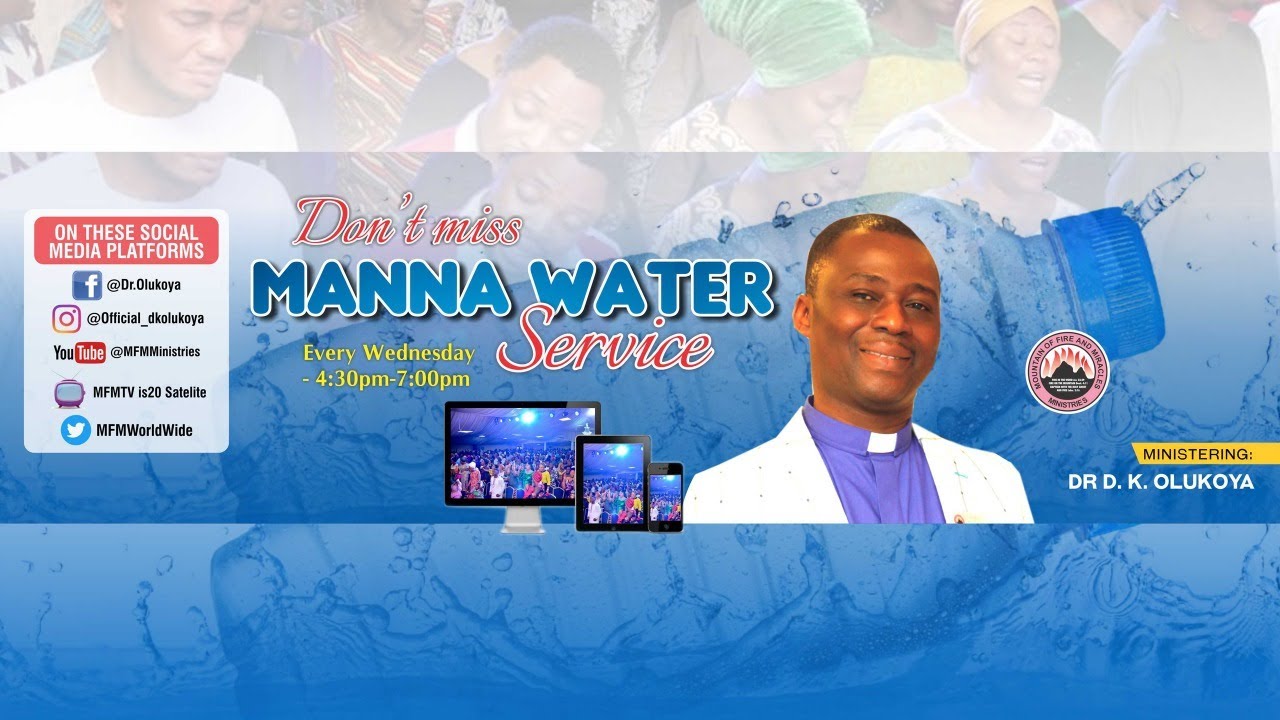 MFM Manna Water Service 23rd September 2020 Wednesday Livestreaming
You are watching Today's Mountain of Fire MFM Special Manna Water Service 23 September 2020 Wednesday by Dr. D. K. Olukoya.
Welcome to MFM SPECIAL MANNA WATER SERVICE WEDNESDAY SEPTEMBER 23rd 2020 MINISTERING: DR D.K. OLUKOYA (G.O MFM WORLDWIDE)
Watch below;
MFM Manna Water Service 23rd September 2020 Wednesday Livestreaming
Please kindly share with other people to be part of this extraordinary LIVE service.
TOPIC: DISMANTLING STUMBLING BLOCKS
Fire Scripture: Isaiah 45:1-6
Today's Outline: Satanic stumbling blocks must go. The power of the enemy must not be allowed to function against us. This can only happen when personal stumbling blocks are removed. Sometime ago, we held a revival service in a church and when an altar call was made to those who wanted to receive the baptism of the Holy Spirit, I saw a dear old woman who came crying and saying that she could not understand why it was difficult for her to receive the baptism even after many revivalists had visited her church.
So, I said: "Mama, you will be filled with the power today." She said: "Thank you my son, I will try." I told her to pray and she prayed until she was sweating and her clothes were soaked. I was impressed with her prayers yet nothing happened. Though I was impressed, since I was not the giver of the Holy Spirit, I could not dash her Holy Ghost.
At a stage, I left her alone and sat somewhere else to pray. I asked the Lord what was wrong with the old woman and the Lord told me to look at her hand. I looked at her hand and saw a particular ring on her fourth finger. MFM Daily Devotional 23rd September 2020 Message
On the ring was the symbol of a half moon. The Lord said that, with that ring on her finger, His Spirit would not enter into her life. Then I said: "Mama, open your eyes. Who gave you this ring?" She told me that she inherited it from her great grandmother. I took the ring from her and made her to understand that the half moon was the sign of witchcraft. She gladly gave it to me and did not have to pray for one minute before she received the power of the Holy Ghost. CONTINUE READING HERE
Comments
0 comments