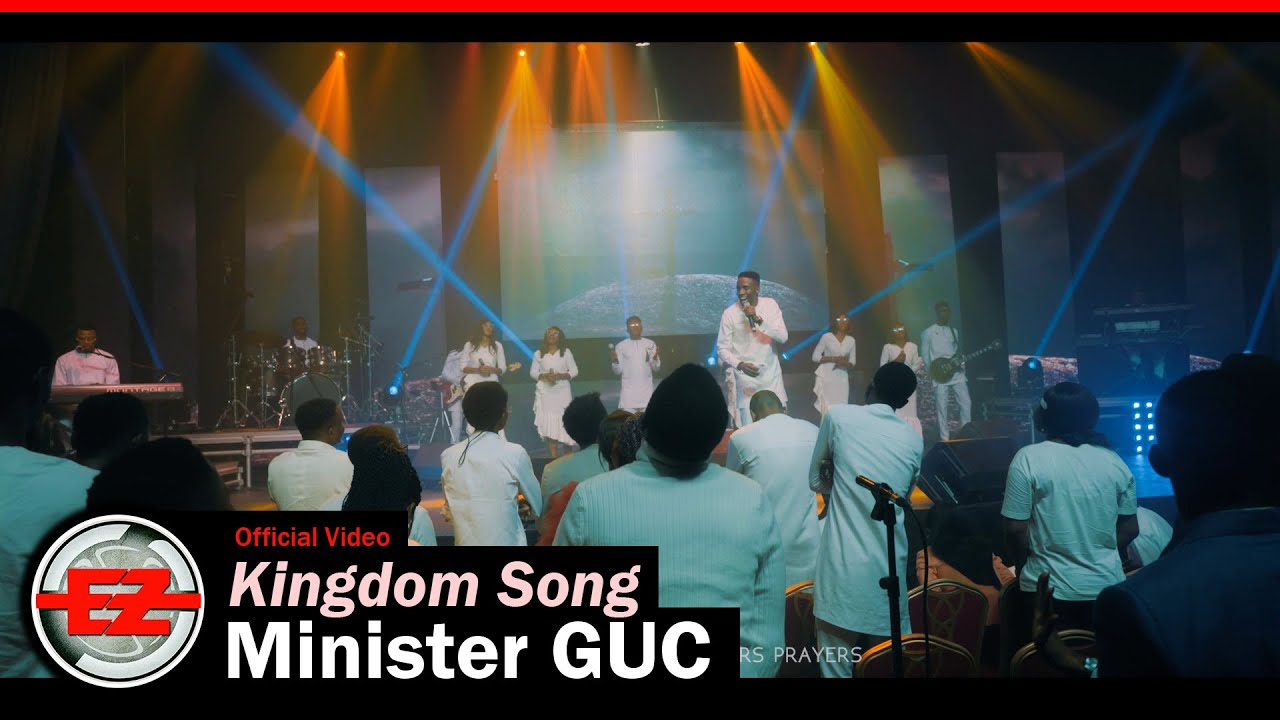 Watch Minister GUC – Kingdom Song (Official Video)
Watch the Official Video of Kingdom Song by one of the Nigerian finest Gospel singer Minister GUC. The official video will be premiered at 8am of 22nd August 2022.
EeZee Conceptz Global, presents "Kingdom Song" by Minister GUC. A song off his Live Album, "To Yahweh's Delight".
Watch Minister GUC – Kingdom Song (Official Video)
DOWNLOAD/STREAM "To Yahweh's Delight" album by Minister GUC https://dixtr.it/MGYahweh
Follow Minister GUC / EeZee Conceptz
☞Twitter: https://twitter.com/ministerguc
☞Instagram: https://instagram.com/ministerguc
☞Instagram: https://instagram.com/eezeeconceptz
Minister GUC – Kingdom Song Lyrics
[Chorus]
Strip me of the Pride
Of this World
So that I can See You Clearly
Lord I want to Know Your Way
Strip me of the Pride
Of this World
So that I can See You Clearly
Teach me Lord to know Your Way
Lord I wanna Know You
Better than I know Me
Teach me Lord to know Your Way
To Know Your Truth
Lord I wanna Know You
Better than I know Me
Teach me Lord to know Your Way
To Know Your Truth
Rid me of the Pride
Of this World
So that I can See You Clearly
Teach me Lord
To know Your Way
Minister GUC – Kingdom Song (Official Video)
Rid me of the Pride
Of this World
So that I can See You Clearly
Teach me Lord
To know Your Way
Wanna Know You
More than my Songs
Wanna Know You
More than my Sermons
Wanna Know You
More than my Songs
Wanna Know You
More than my Sermons
Lord I want to Know You
Lord I want to Know You
Lord I want to Know You
Lord I want to Know You
Lord I want to Know You
Lord I want to Know You
Lord I want to Know You
Lord I want to Know You
Wanna Know You
More than my Songs
Wanna Know You
More than my Sermons
Wanna Know You
More than my Strength
Wanna Know You
More than my Weakness
Wanna Know You
More than my Songs
Wanna Know You
More than my Sermons
Wanna Know You
More than my Strength
Wanna Know You
More than my Weakness
Wanna Know You
More than my Songs
Wanna Know You
More than my Sermons
Wanna Know You
More than my Strength
Wanna Know You
More than my Weakness
Wanna Know You
More than my Songs
Wanna Know You
More than my Sermons
Wanna Know You
More than my Strength
Wanna Know You
More than my Weakness
Wanna Know You
More than my Songs
Wanna Know You
More than my Sermons
Wanna Know You
More than my Strength
Wanna Know You
More than my Weakness
Lord I wanna Know You
Lord I wanna Know You
Lord I wanna Know You
Lord I wanna Know You
Lord I wanna Know You
Lord I wanna Know You
Lord I wanna Know You
Lord I wanna Know You
Wanna Know You
More than my Strength
Wanna Know You
More than my Weakness
Wanna Know You
More than my Songs
Wanna Know You
More than my Sermons
Lord I want to Know You
Lord I want to Know You
Lord I want to Know You
Lord I want to Know You
Lord I want to Know You
Lord I want to Know You
Lord I want to Know You
Lord I want to Know You
I am Your Own, I am Your Own
Till the Day You will come
Jesus, I am Your Own
I am Your Own, I am Your Own
Till the Day You will come
Jesus, I am Your Own
I am Your Own, I am Your Own
Till the Day You will come
Jesus, I am Your Own
Moses Bliss – Spotlight
You are my Everything
You are my Standard
Till the Day You will come
Jesus, I am Your Own
I am Your Own, I am Your Own
Till the Day You will come
Jesus, I am Your Own
Tire Ni Moje, Tire Ni Moje
Titi pa aware
Yesu, Tire Ni Moje
Tire Ni Moje, Tire Ni Moje
Titi pa aware
Yesu, Tire Ni Moje
If you Leave me now
Where will I go
If you Leave me now
Where will I Stand O
Jesus, Jesus, Jesus
You are my Anchor for Life O
If you Let me go, where will I go
If you Let me go
Where will I Stand O
Jesus, Jesus, Jesus
You are my Anchor for Life O
You are my Everything
You are my Standard
Till the Day You will come
Jesus, I am Your Own
Mimo, Mimo O
Baba Mimo Mimo
Heaven and Earth Adore You
Momo Mimo
Mimo, Mimo O
Baba Mimo Mimo
I'll Sing Your Praise Forever
Mimo Mimo
Mimo, Mimo O
Baba Mimo Mimo
Heaven and Earth Adore You
Momo Mimo
Mimo, Mimo O
Baba Mimo Mimo
I'll Sing Your Praise Forever
Mimo Mimo
Mimo, Mimo O
Baba Mimo Mimo
I'll Sing Your Praise Forever
Mimo Mimo
Mimo, Mimo O
Baba Mimo Mimo
Heaven and Earth Adore You
Momo Mimo
Mimo, Mimo O
Baba Mimo Mimo
I'll Sing Your Praise Forever
Mimo Mimo