Today Livestream
Catholic Live Mass 1st October 2020 Today Online – St Thérèse of the Child Jesus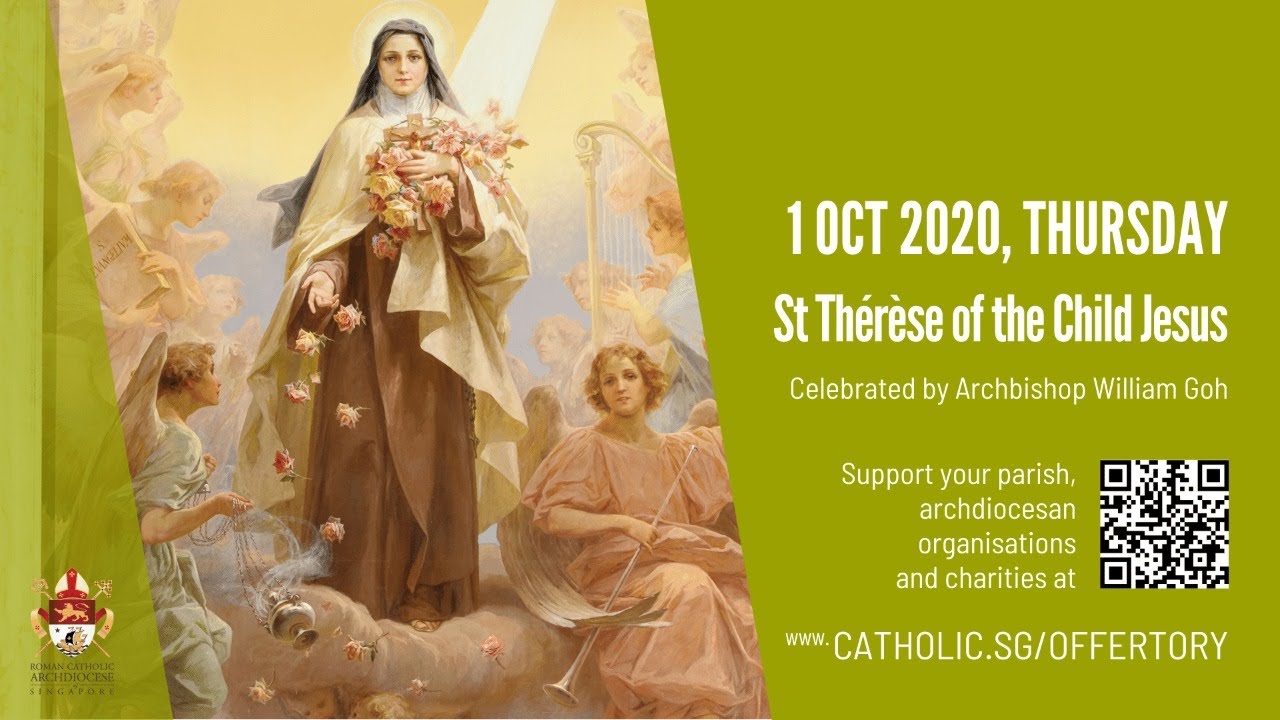 Catholic Live Mass 1st October 2020 Today Online – St Thérèse of the Child Jesus
You are watching Today Live Daily Mass Thursday, October 1st, 2020 from  Roman Catholic Archdiocese of Singapore
HOLINESS IS LIVING OUT THE VOCATION OF LOVE
Thursday, St Thérèse of the Child Jesus (1st October 2020)
Mass Celebrated by Archbishop William Goh
The celebrant for Masses on our channel for Wednesdays to Sundays is Archbishop William Goh.
The Catholic Mass today is celebrated all around the world. Here in Singapore, we are pleased to provide online, daily Catholic Mass live or recorded in English to all Catholics and anyone interested in the Catholic faith. During Catholic Masses, it is not uncommon to hear a homily about Catholic teachings and Catholic answers to life's questions. The Holy Mass is beautiful and stems from Jesus. Expect Catholic prayers, Catholic hymns (Christian songs) that come from 2000 years of tradition and practice. All are welcome.
Catholic Live Mass 1st October 2020 Today Online – St Thérèse of the Child Jesus
MASS READINGS:
•First Reading: Job 19: 21-27
• Responsorial Psalm: Psalm 130(131) ("Keep my soul in peace before you, O Lord.")
• Gospel: Luke 10: 1-12
First Reading: Job 19: 21-27
21 Have pity on me, have pity on me, at least you my friends, because the hand of the Lord hath touched me.
22 Why do you persecute me as God, and glut yourselves with my flesh?
23 Who will grant me that my words may be written? Who will grant me that they may be marked down in a book?
24 With an iron pen and in a plate of lead, or else be graven with an instrument in flint stone.
25 For I know that my Redeemer liveth, and in the last day I shall rise out of the earth.
26 And I shall be clothed again with my skin, and in my flesh I will see my God.
27 Whom I myself shall see, and my eyes shall behold, and not another: this my hope is laid up in my bosom.
Responsorial Psalm: Psalms 27: 7-8a, 8b-9abc, 13-14
7 Hear, O Lord, my voice, with which I have cried to thee: have mercy on me and hear me.
8 My heart hath said to thee: My face hath sought thee: thy face, O Lord, will I still seek.
9 Turn not away thy face from me; decline not in thy wrath from thy servant. Be thou my helper, forsake me not; do not thou despise me, O God my Saviour.
13 I believe to see the good things of the Lord in the land of the living.
14 Expect the Lord, do manfully, and let thy heart take courage, and wait thou for the Lord.
Gospel: Luke 10: 1-12
1 And after these things the Lord appointed also other seventy-two: and he sent them two and two before his face into every city and place whither he himself was to come.
2 And he said to them: The harvest indeed is great, but the labourers are few. Pray ye therefore the Lord of the harvest, that he send labourers into his harvest. CONTINUE READING>>>
Comments
0 comments