Today Livestream
Catholic Mass 12th February 2021 Today Online – Lunar New Year 2021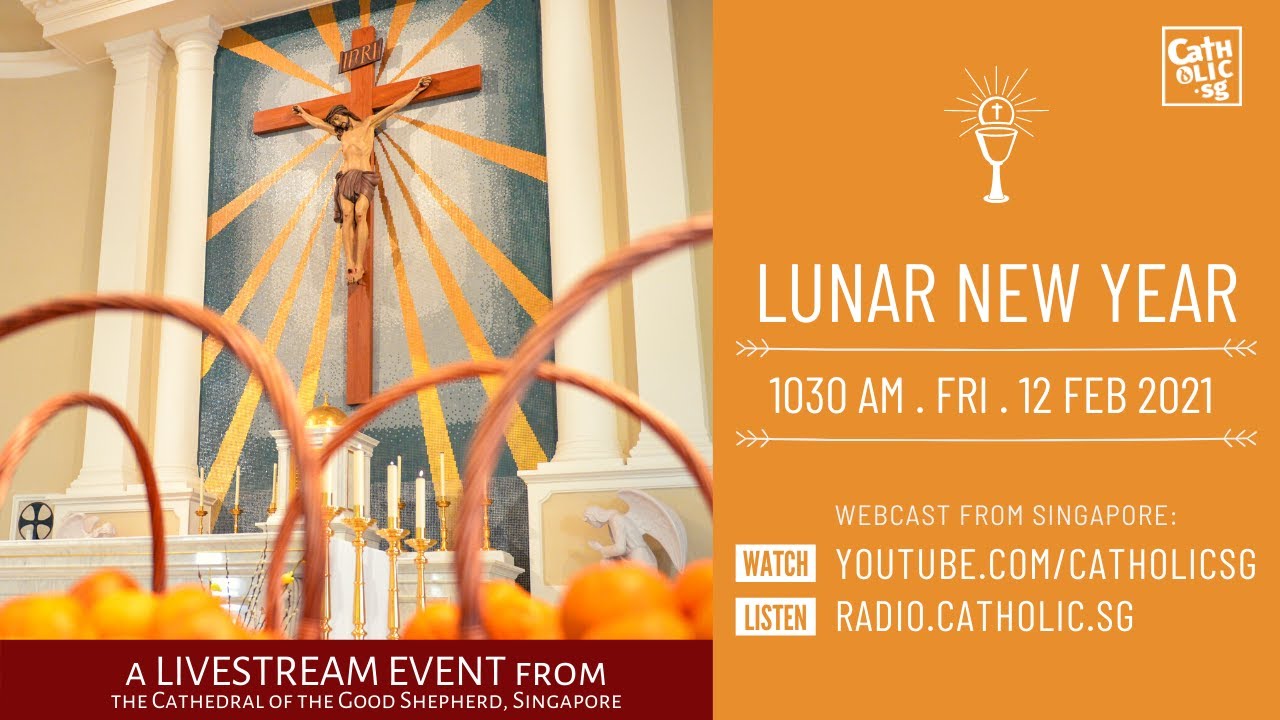 Catholic Mass 12th February 2021 Today Online – Lunar New Year 2021 Live from Roman Catholic Archdiocese of Singapore
LUNAR NEW YEAR A TRULY CHRISTIAN FESTIVAL
Friday, Lunar New Year 2021 (12 February 2021)
Mass Celebrated by Archbishop William Goh
The celebrant for Masses on our channel for Wednesdays to Sundays is Archbishop William Goh.
The Catholic Mass today is celebrated all around the world. Here in Singapore, we are pleased to provide online, daily Catholic Mass live or recorded in English to all Catholics and anyone interested in the Catholic faith. During Catholic Masses, it is not uncommon to hear a homily about Catholic teachings and Catholic answers to life's questions. The Holy Mass is beautiful and stems from Jesus. Expect Catholic prayers, Catholic hymns (Christian songs) that come from 2000 years of tradition and practice. All are welcome.
Catholic Mass 12th February 2021 Today Online – Lunar New Year 2021
Watch below;
Today's Daily Mass  Online…
Today's Daily Mass Readings…
First Reading: Genesis 3: 1-8
1 Now the serpent was more subtle than any of the beasts of the earth which the Lord God had made. And he said to the woman: Why hath God commanded you, that you should not eat of every tree of paradise?
2 And the woman answered him, saying: Of the fruit of the trees that are in paradise we do eat:
3 But of the fruit of the tree which is in the midst of paradise, God hath commanded us that we should not eat; and that we should not touch it, lest perhaps we die.
4 And the serpent said to the woman: No, you shall not die the death.
5 For God doth know that in what day soever you shall eat thereof, your eyes shall be opened: and you shall be as Gods, knowing good and evil.
6 And the woman saw that the tree was good to eat, and fair to the eyes, and delightful to behold: and she took of the fruit thereof, and did eat, and gave to her husband who did eat.
7 And the eyes of them both were opened: and when they perceived themselves to be naked, they sewed together fig leaves, and made themselves aprons.
8 And when they heard the voice of the Lord God walking in paradise at the afternoon air, Adam and his wife hid themselves from the face of the Lord God, amidst the trees of paradise.
Responsorial Psalm: Psalms 32: 1-2, 5, 6, 7
1 To David himself, understanding. Blessed are they whose iniquities are forgiven, and whose sins are covered.
2 Blessed is the man to whom the Lord hath not imputed sin, and in whose spirit there is no guile.
5 I have acknowledged my sin to thee, and my injustice I have not concealed. I said I will confess against myself my injustice to the Lord: and thou hast forgiven the wickedness of my sin.
6 For this shall every one that is holy pray to thee in a seasonable time. And yet in a flood of many waters, they shall not come nigh unto him.
7 Thou art my refuge from the trouble which hath encompassed me: my joy, deliver me from them that surround me.
Gospel: Mark 7: 31-37
31 And again going out of the coasts of Tyre, he came by Sidon to the sea of Galilee, through the midst of the coasts of Decapolis.
32 And they bring to him one deaf and dumb; and they besought him that he would lay his hand upon him.
33 And taking him from the multitude apart, he put his fingers into his ears, and spitting, he touched his tongue:
34 And looking up to heaven, he groaned, and said to him: Ephpheta, which is, Be thou opened.
35 And immediately his ears were opened, and the string of his tongue was loosed, and he spoke right.
36 And he charged them that they should tell no man. But the more he charged them, so much the more a great deal did they publish it.
37 And so much the more did they wonder, saying: He hath done all things well; he hath made both the deaf to hear, and the dumb to speak.
Anglican Daily Fountain Devotional for 12th February 2021 – Speaking The Truth
Comments
0 comments