Today Livestream
Catholic Mass 24th September 2020 Today Online – 25th Week of Ordinary Time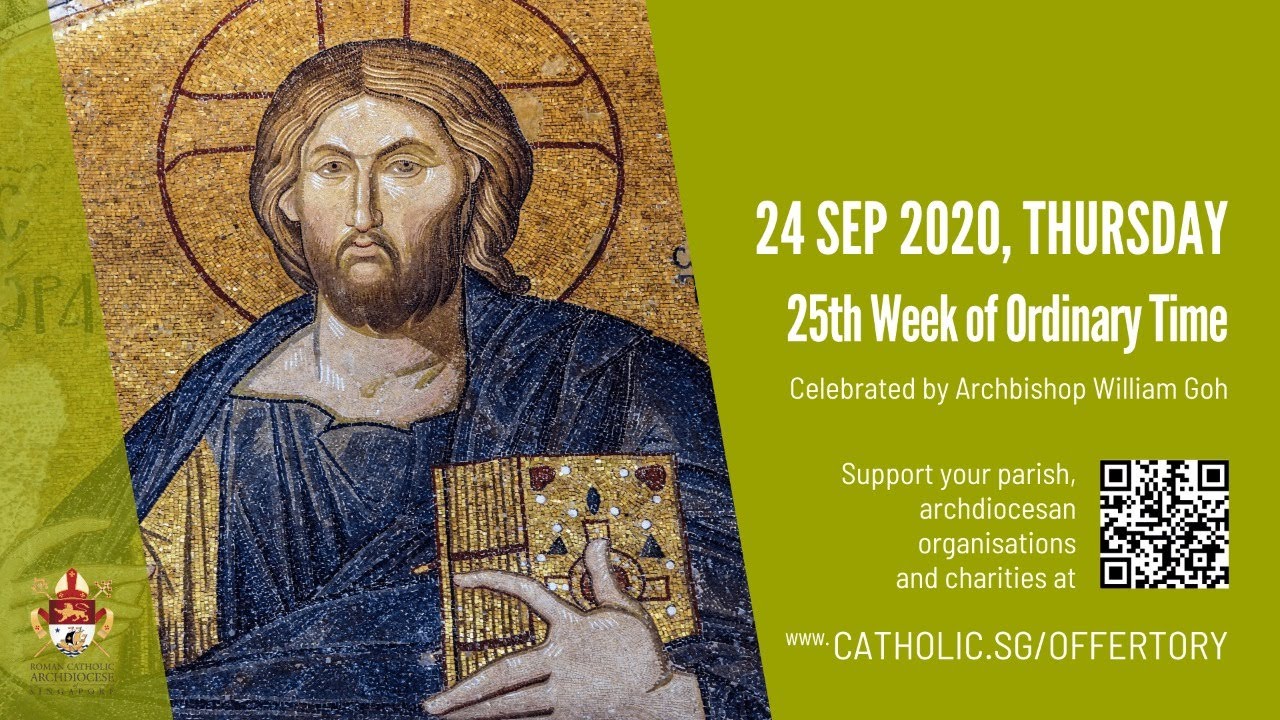 Catholic Mass 24th September 2020 Today Online – 25th Week of Ordinary Time
You are watching Today's Live streaming Daily Mass from Roman Catholic Archdiocese of Singapore
SEEK FOR THE ETERNAL MEANING
Thursday, 25th Week of Ordinary Time (24th September 2020)
Mass Celebrated by Archbishop William Goh
The celebrant for Masses on our channel for Wednesdays to Sundays is Archbishop William Goh.
The Catholic Mass today is celebrated all around the world. Here in Singapore, we are pleased to provide online, daily Catholic Mass live or recorded in English to all Catholics and anyone interested in the Catholic faith. During Catholic Masses, it is not uncommon to hear a homily about Catholic teachings and Catholic answers to life's questions. The Holy Mass is beautiful and stems from Jesus. Expect Catholic prayers, Catholic hymns (Christian songs) that come from 2000 years of tradition and practice. All are welcome.
Livestreaming: Catholic Mass 24th September 2020 Today Online
Watch Here;
First Reading: Ecclesiastes 1: 2-11
2 Vanity of vanities, said Ecclesiastes vanity of vanities, and all is vanity.
3 What hath a man more of all his labour, that he taketh under the sun?
4 One generation passeth away, and another generation cometh: but the earth standeth for ever.
5 The sun riseth, and goeth down, and returneth to his place: and there rising again,
6 Maketh his round by the south, and turneth again to the north: the spirit goeth forward surveying all places round about, and returneth to his circuits.
7 All the rivers run into the sea, yet the sea doth not overflow: unto the place from whence the rivers come, they return, to flow again.
8 All things are hard: man cannot explain them by word. The eye is not filled with seeing, neither is the ear filled with hearing.
9 What is it that hath been? the same thing that shall be. What is it that hath been done? the same that shall be done.
10 Nothing under the sun is new, neither is any man able to say: Behold this is new: for it hath already gone before in the ages that were before us.
11 There is no remembrance of former things: nor indeed of those things which hereafter are to come, shall there be any remembrance with them that shall be in the latter end.
Responsorial Psalm: Psalms 90: 3-4, 5-6, 12-13, 14 and 17bc
3 Turn not man away to be brought low: and thou hast said: Be converted, O ye sons of men.
4 For a thousand years in thy sight are as yesterday, which is past. And as a watch in the night,
5 Things that are counted nothing, shall their years be.
Comments
0 comments