Today Livestream
Catholic Mass 5th October 2020 Today Monday Online – 27th Week of Ordinary Time 2020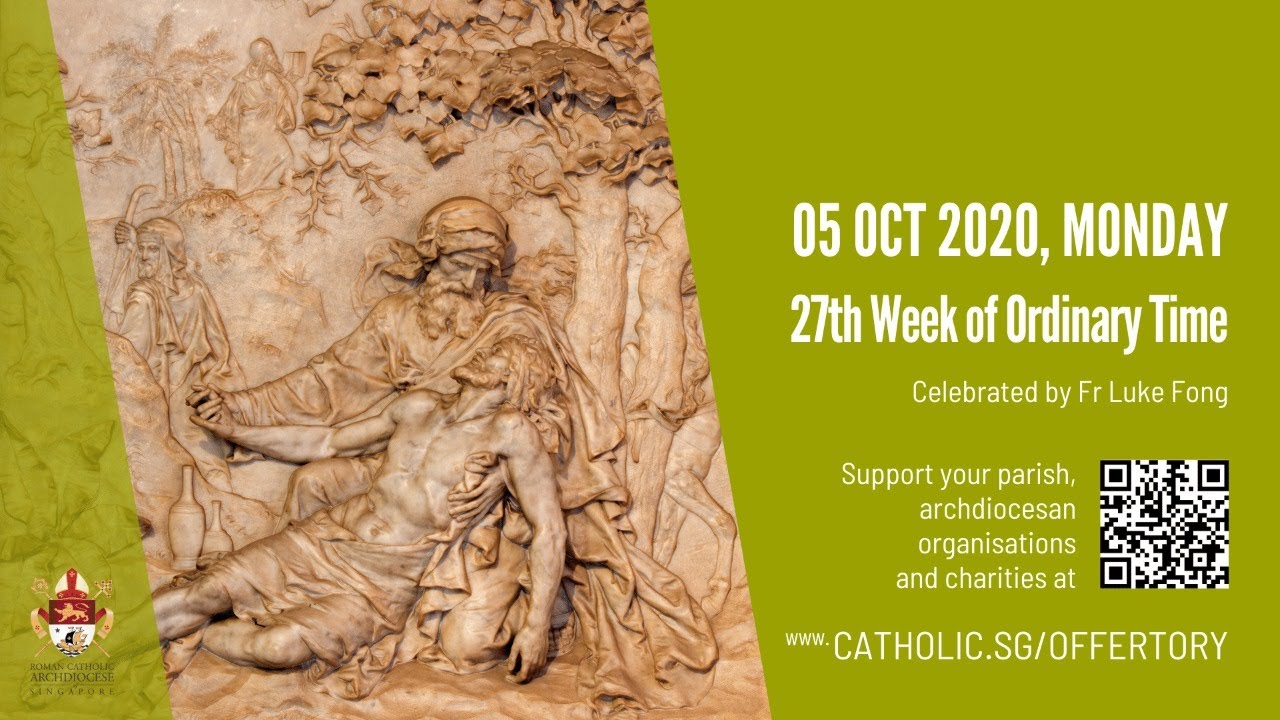 Catholic Mass 5th October 2020 Today Monday Online – 27th Week of Ordinary Time 2020
You are watching Today Livestreaming Mass of Roman Catholic Archdiocese of Singapore.
Monday, 27th Week of Ordinary Time (5th October 2020)
Mass Celebrated by Fr Luke Fong at the Church of the Immaculate Heart of Mary, Singapore
The celebrant for Masses on our channel for Wednesdays to Sundays is Archbishop William Goh.
The Catholic Mass today is celebrated all around the world. Here in Singapore, we are pleased to provide online, daily Catholic Mass live or recorded in English to all Catholics and anyone interested in the Catholic faith. During Catholic Masses, it is not uncommon to hear a homily about Catholic teachings and Catholic answers to life's questions. The Holy Mass is beautiful and stems from Jesus. Expect Catholic prayers, Catholic hymns (Christian songs) that come from 2000 years of tradition and practice. All are welcome.
MASS READINGS:
• First Reading: Galatians 1:6-12
• Responsorial Psalm: Psalm 110(111):1-2,7-10 ("The Lord keeps his covenant ever in mind.")
• Gospel: Luke 10:25-37
Catholic Mass 5th October 2020 Today Monday Online – 27th Week of Ordinary Time 2020
First Reading: Galatians 1: 6-12
6 I wonder that you are so soon removed from him that called you into the grace of Christ, unto another gospel.
7 Which is not another, only there are some that trouble you, and would pervert the gospel of Christ.
8 But though we, or an angel from heaven, preach a gospel to you besides that which we have preached to you, let him be anathema.
9 As we said before, so now I say again: If any one preach to you a gospel, besides that which you have received, let him be anathema.
10 For do I now persuade men, or God? Or do I seek to please men? If I yet pleased men, I should not be the servant of Christ.
11 For I give you to understand, brethren, that the gospel which was preached by me is not according to man.
12 For neither did I receive it of man, nor did I learn it; but by the revelation of Jesus Christ.
Responsorial Psalm: Psalms 111: 1b-2, 7-8, 9 and 10c
1 I will praise thee, O Lord, with my whole heart; in the council of the just: and in the congregation.
2 Great are the works of the Lord: sought out according to all his wills.
7 That he may give them the inheritance of the Gentiles: the works of his hands are truth and judgment.
8 All his commandments are faithful: confirmed for ever and ever, made in truth and equity.
9 He hath sent redemption to his people: he hath commanded his covenant for ever. Holy and terrible is his name… Continue Reading>>>
Comments
0 comments