Today Livestream
Catholic Mass Today Saturday 3rd October 2020 Online – 26th Week of Ordinary Time 2020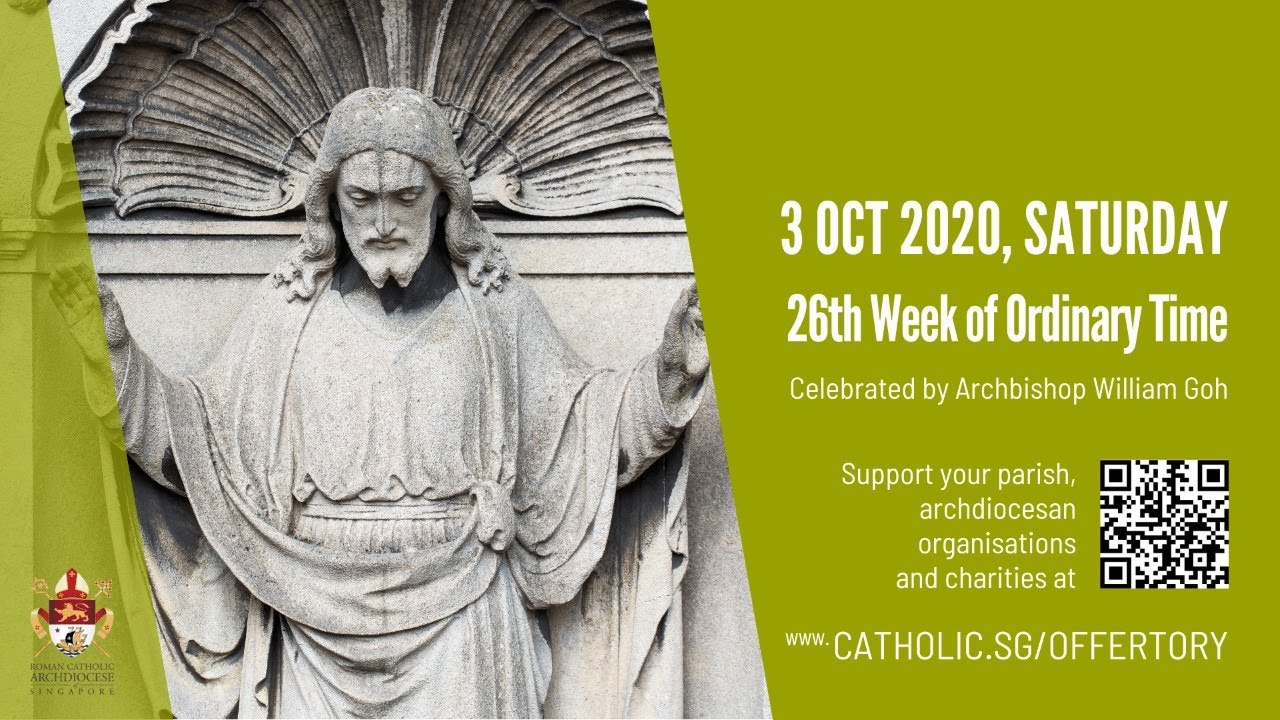 Catholic Mass Today Saturday 3rd October 2020 Online – 26th Week of Ordinary Time 2020
You are watching Today Live streaming from Roman Catholic Archdiocese of Singapore
SEEING THE GLORY OF GOD
Saturday, 26th Week of Ordinary Time (3rd October 2020)
Mass Celebrated by Archbishop William Goh
The celebrant for Masses on our channel for Wednesdays to Sundays is Archbishop William Goh.
The Catholic Mass today is celebrated all around the world. Here in Singapore, we are pleased to provide online, daily Catholic Mass live or recorded in English to all Catholics and anyone interested in the Catholic faith. During Catholic Masses, it is not uncommon to hear a homily about Catholic teachings and Catholic answers to life's questions. The Holy Mass is beautiful and stems from Jesus. Expect Catholic prayers, Catholic hymns (Christian songs) that come from 2000 years of tradition and practice. All are welcome.
Catholic Mass Today Saturday 3rd October 2020 Online
MASS READINGS:
• First Reading: Job 42:1-3,5-6,12-17
• Responsorial Psalm: Psalm 118(119):66,71,75,91,125,130 ("Let your face shine on your servant, O Lord.")
• Gospel: Luke 10:17-24
First Reading: Job 42: 1-3, 5-6, 12-17
1 Then Job answered the Lord, and said:
2 I know that thou canst do all things, and no thought is hid from thee.
3 Who is this that hideth counsel without knowledge? Therefore I have spoken unwisely, and things that above measure exceeded my knowledge.
5 With the hearing of the ear, I have heard thee, but now my eye seeth thee.
6 Therefore I reprehend myself, and do penance in dust and ashes.
12 And the Lord blessed the latter end of Job more than his beginning. And he had fourteen thousand sheep, and six thousand camels, and a thousand yoke of oxen, and a thousand she asses.
13 And he had seven sons, and three daughters.
14 And he called the names of one Dies, and the name of the second Cassia, and the name of the third Cornustibil.
15 And there were not found in all the earth women so beautiful as the daughters of Job: and their father gave them inheritance among their brethren.
16 And Job lived after these things, a hundred and forty years, and he saw his children, and his children's children, unto the fourth generation,
17 and he died an old man, and full of days.
Responsorial Psalm: Psalms 119: 66, 71, 75, 91, 125, 130
66 Teach me goodness and discipline and knowledge; for I have believed thy commandments.
Continue Reading Today Daily Mass Readings
Comments
0 comments