Today Livestream
Catholic Monday Mass 28th September 2020 Today Online – Livestream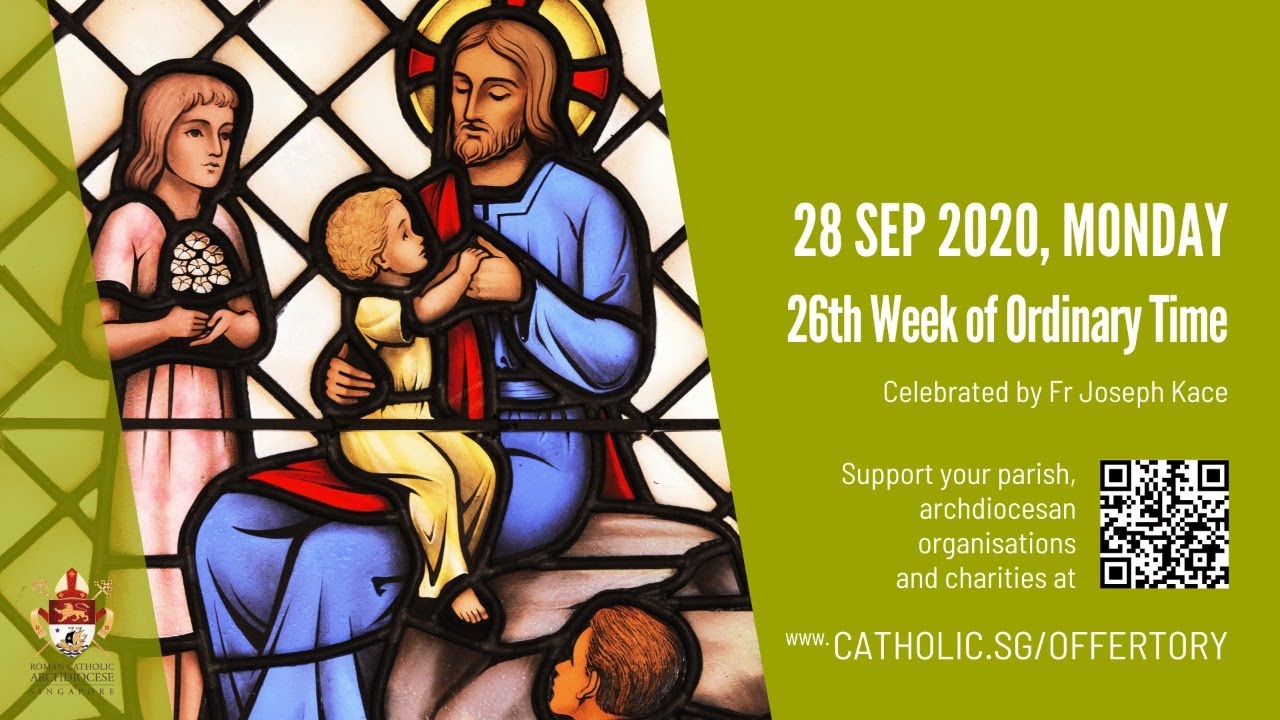 Catholic Monday Mass 28th September 2020 Today Online – 26th Week of Ordinary Time 2020 – Livestream
You are watching Today Livestream Mass for Monday 28th September 2020 LIVE from Roman Catholic Archdiocese of Singapore.
Monday, 26th Week of Ordinary Time (28th September 2020)
Mass Celebrated by Fr Joseph Kace
The celebrant for Masses on our channel for Wednesdays to Sundays is Archbishop William Goh.
The Catholic Mass today is celebrated all around the world. Here in Singapore, we are pleased to provide online, daily Catholic Mass live or recorded in English to all Catholics and anyone interested in the Catholic faith. During Catholic Masses, it is not uncommon to hear a homily about Catholic teachings and Catholic answers to life's questions. The Holy Mass is beautiful and stems from Jesus. Expect Catholic prayers, Catholic hymns (Christian songs) that come from 2000 years of tradition and practice. All are welcome.
Catholic Monday Mass 28th September 2020 Today Online – 26th Week of Ordinary Time 2020 – Livestream
MASS READINGS:
• First Reading: Job 1:6-22
• Responsorial Psalm: Psalm 16(17):1-3,6-7 ("Turn your ear to me, O Lord; hear my words.")
• Gospel: Luke 9:46-50
First Reading: Job 1: 6-22
6 Now on a certain day when the sons of God came to stand before the Lord, Satan also was present among them.
7 And the Lord said to him: Whence comest thou? And he answered and said: I have gone round about the earth, and walked through it.
8 And the Lord said to him: Hast thou considered my servant Job, that there is none like him in the earth, a simple and upright man, and fearing God, and avoiding evil?
9 And Satan answering, said: Doth Job fear God in vain?
10 Hast not thou made a fence for him, and his house, and all his substance round about, blessed the works of his hands, and his possession hath increased on the earth?
11 But stretch forth thy hand a little, and touch all that he hath, and see if he blesseth thee not to thy face.
12 Then the Lord said to Satan: Behold, all that he hath is in thy hand: only put not forth thy hand upon his person. And Satan went forth from the presence of the Lord.
13 Now upon a certain day when his sons and daughters were eating and drinking wine in the house of their eldest brother,
14 There came a messenger to Job, and said: The oxen were ploughing, and the asses feeding beside them,
15 And the Sabeans rushed in, and took all away, and slew the servants with the sword, and I alone have escaped to tell thee.
16 And while he was yet speaking, another came, and said: The fire of God fell from heaven, and striking the sheep and the servants, hath consumed them, and I alone have escaped to tell thee.
17 And while he also was yet speaking, there came another, and said: The Chaldeans made three troops, and have fallen upon the camels, and taken them, moreover they have slain the servants with the sword, and I alone have escaped to tell thee.
18 He was yet speaking, and behold another came in, and said: Thy sons and daughters were eating and drinking wine in the house of their elder brother: CONTINUE READING>>>
Comments
0 comments