Today Livestream
Catholic Tuesday Mass 29th September 2020 Today Online – 26th Week of Ordinary Time 2020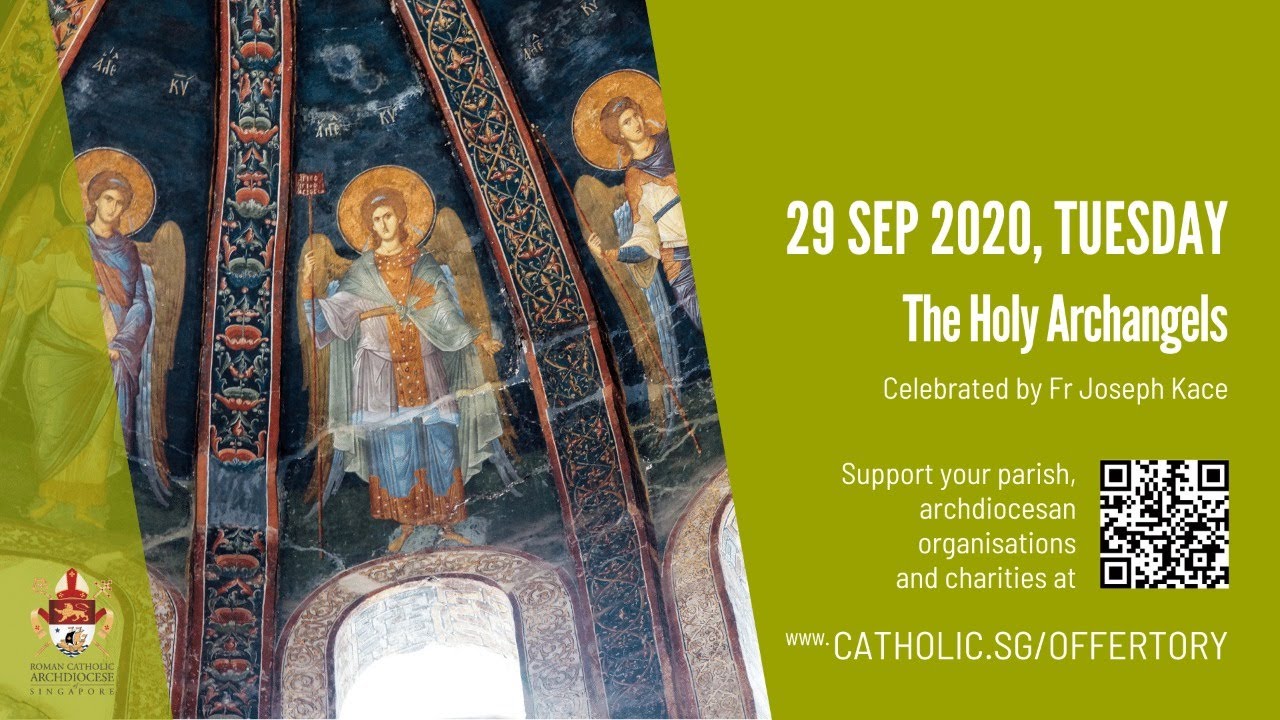 Catholic Tuesday Mass 29th September 2020 Today Online – 26th Week of Ordinary Time 2020
You are watching today's LIVE streaming of Daily Mass for Tuesday 29th September 2020 from Roman Catholic Archdiocese of Singapore
Tuesday, 26th Week of Ordinary Time (29th September 2020)
Mass Celebrated by Fr Joseph Kace
Watch below;
The celebrant for Masses on our channel for Wednesdays to Sundays is Archbishop William Goh.
The Catholic Mass today is celebrated all around the world. Here in Singapore, we are pleased to provide online, daily Catholic Mass live or recorded in English to all Catholics and anyone interested in the Catholic faith. During Catholic Masses, it is not uncommon to hear a homily about Catholic teachings and Catholic answers to life's questions. The Holy Mass is beautiful and stems from Jesus. Expect Catholic prayers, Catholic hymns (Christian songs) that come from 2000 years of tradition and practice. All are welcome.
MASS READINGS:
• First Reading: Daniel 7:9-10,13-14
• Responsorial Psalm: Psalm 137(138):1-5 ("In the presence of the angels I will bless you, O Lord.")
• Gospel: John 1:47-51
Catholic Tuesday Mass 29th September 2020 Today Online – 26th Week of Ordinary Time 2020
First Reading: Daniel 7: 9-10, 13-14 or Revelation 12: 7-12a
9 I beheld till thrones were placed, and the Ancient of days sat: his garment was white as snow, and the hair of his head like clean wool: his throne like flames of fire: the wheels of it like a burning fire.
10 A swift stream of fire issued forth from before him: thousands of thousands ministered to him, and ten thousand times a hundred thousand stood before him: the judgment sat, and the books were opened.
13 I beheld therefore in the vision of the night, and lo, one like the son of man came with the clouds of heaven, and he came even to the Ancient of days: and they presented him before him.
14 And he gave him power, and glory, and a kingdom: and all peoples, tribes and tongues shall serve him: his power is an everlasting power that shall not be taken away: and his kingdom that shall not be destroyed.
or
7 And there was a great battle in heaven, Michael and his angels fought with the dragon, and the dragon fought and his angels:
8 And they prevailed not, neither was their place found any more in heaven.
9 And that great dragon was cast out, that old serpent, who is called the devil and Satan, who seduceth the whole world; and he was cast unto the earth, and his angels were thrown down with him.
10 And I heard a loud voice in heaven, saying: Now is come salvation, and strength, and the kingdom of our God, and the power of his Christ: because the accuser of our brethren is cast forth, who accused them before our God day and night.
11 And they overcame him by the blood of the Lamb, and by the word of the testimony, and they loved not their lives unto death.
12 Therefore rejoice, O heavens, and you that dwell therein. Woe to the earth, and to the sea, because the devil is come down unto you, having great wrath, knowing that he hath but a short time. Continue Reading>>>
Comments
0 comments