Daily Mass Readings 20th July 2022, Wednesday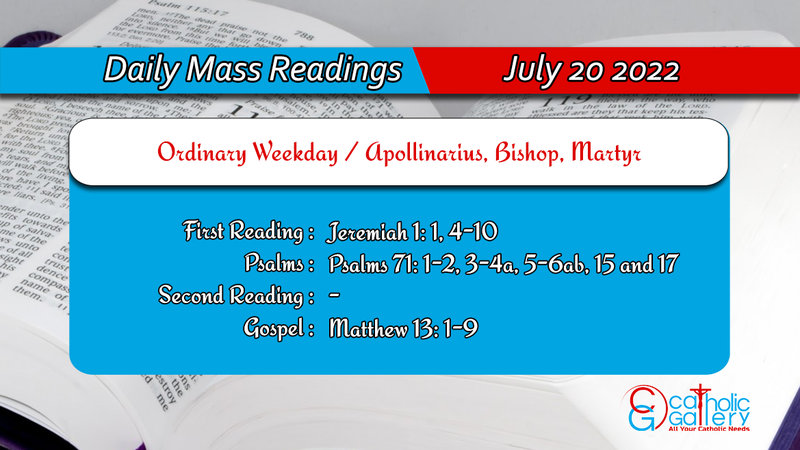 Daily Mass Readings 20th July 2022, Wednesday
Read and Meditate on Today's Catholic Daily Readings for 20 July 2022 – Ordinary Weekday / Apollinarius, Bishop, Martyr. May the Lord bless you as you study!
CATHOLIC DAILY MASS READINGS FOR WEDNESDAY, 20TH JULY 2022
First Reading: Jeremiah 1: 1, 4-10
Responsorial Psalm: Psalms 71: 1-2, 3-4a, 5-6ab, 15 and 17
Gospel: Matthew 13: 1-9
Lectionary: 397
First Reading: Jeremiah 1: 1, 4-10
1 The words of Jeremias the son of Helcias, of the priests that were in Anathoth, in the land of Benjamin.
4 And the word of the Lord came to me, saying:
5 Before I formed thee in the bowels of thy mother, I knew thee: and before thou camest forth out of the womb, I sanctified thee, and made thee a prophet unto the nations.
6 And I said: Ah, ah, ah, Lord God: behold, I cannot speak, for I am a child.
7 And the Lord said to me: Say not: I am a child: for thou shalt go to all that I shall send thee: and whatsoever I shall command thee, thou shalt speak.
8 Be not afraid at their presence: for I am with thee to deliver thee, saith the Lord.
9 And the Lord put forth his hand, and touched my mouth: and the Lord said to me: Behold I have given my words in thy mouth:
10 Lo, I have set thee this day over the nations, and over the kingdoms, to root up, and pull down, and to waste, and to destroy, and to build, and to plant.
Responsorial Psalm: Psalms 71: 1-2, 3-4a, 5-6ab, 15 and 17
R. (15ab) I will sing of your salvation.
1 In thee, O Lord, I have hoped, let me never be put to confusion:
2 Deliver me in thy justice, and rescue me. Incline thy ear unto me, and save me.
R. I will sing of your salvation.
3 Be thou unto me a God, a protector, and a place of strength: that thou mayst make me safe. For thou art my firmament and my refuge.
4a Deliver me, O my God, out of the hand of the sinner.
R. I will sing of your salvation.
5 For thou art my patience, O Lord: my hope, O Lord, from my youth;
6ab By thee have I been confirmed from the womb: from my mother's womb thou art my protector.
R. I will sing of your salvation.
15 My mouth shall shew forth thy justice; thy salvation all the day long. Because I have not known learning,
17 Thou hast taught me, O God, from my youth: and till now I will declare thy wonderful works.
R. I will sing of your salvation.
Alleluia
R. Alleluia, alleluia.
The seed is the word of God, Christ is the sower; all who come to him will live for ever.
R. Alleluia, alleluia.
Gospel: Matthew 13: 1-9
1 The same day Jesus going out of the house, sat by the sea side.
2 And great multitudes were gathered unto him, so that he went up into a boat and sat: and all the multitude stood on the shore.
3 And he spoke to them many things in parables, saying: Behold the sower went forth to sow.
4 And whilst he soweth some fell by the way side, and the birds of the air came and ate them up.
5 And other some fell upon stony ground, where they had not much earth: and they sprung up immediately, because they had no deepness of earth.
6 And when the sun was up they were scorched: and because they had not root, they withered away.
7 And others fell among thorns: and the thorns grew up and choked them.
8 And others fell upon good ground: and they brought forth fruit, some an hundredfold, some sixtyfold, and some thirtyfold.
9 He that hath ears to hear, let him hear.
The readings on this page are taken from the Douay-Rheims Catholic Bible. You can also read the Mass Readings taken from the New Jerusalem Bible, which is used at Mass in most of the English-speaking world. (References, Copyrights).
Daily Mass Readings 20th July 2022, Wednesday