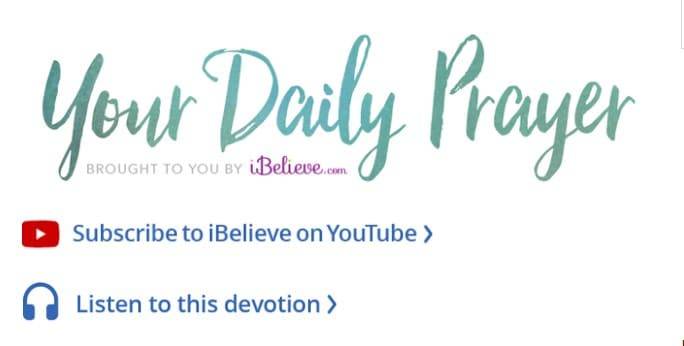 December 3, 2022 Your Daily Prayer For Saturday
Praying is such a vital tool for Christians to take hold of the power and strength God wants to give us. Use our daily prayer devotional to focus your mind and heart on the love of God at the beginning of each day and throughout your day.
Did you miss previous Daily Devotionals; if YES, Read below:
Welcome to Your Daily Prayer Today – A Prayer for the Overwhelmed Mom at Christmas. May God bless you as you study and pray.
A Prayer for the Overwhelmed Mom This Christmas
By Alicia Searl
Scripture: "The Lord replied, 'My Presence will go with you, and I will give you rest.'" Exodus 33:14
Christmastime is a beautiful and holy time of year, causing us to pause and reflect on God's rich love for us, soaking in all its wonders, but for the overwhelmed mom, going into this season can cause a surge of panic. As excitement and anticipation grow, so do the anxiety, frantic nerves, and seasonal stress. The daunting task of trying to please everyone around her while making memories for her precious family has officially begun, and she's already tired. Her intentions may mean well and generally stem from a pure heart, but in due time, all this striving and giving, tirelessly aiming to satisfy family and friends, eventually leads to a place that exudes a dim glow that's a little lackluster.
Moms have always been rather good at stuffing down their own happiness in order to bring out the best in others. This need to create magical memories only intensifies as Christmas draws near. They pledge to themselves (pretty much every year) that this Christmas will be different. This Christmas will be more about… fill in the blank. This trail of thought is brought on by the detour she took looking back on Christmases past.
Yet, as time goes on and the to-do list grows longer, the once deemed "holy and jolly mom" slowly gets replaced with the pale green starkness of the Grinch. Joy and peace manage to become consumed by the shuffle of events and endless demands, and the excitement quickly fizzles out with unmet expectations.
Before too long, the busy patterns of this season will have a weary momma's heart gently whispering, "Where are you, Christmas?" Maybe you are that overwhelmed mom in need of hope. Well, let me remind you that our Savior is near! If we truly want this Christmas to be different, we must make room in our schedule to become overwhelmed by His Presence (Exodus 33:14).
This Christmas, search for ways to slip away to be removed from all the "stuff" so you can be refueled by God's unfailing love. Carve out time to dig into His Word, stroll in His beautiful creation, sit beneath the tree and soak in its glorious glow. Let those small and precious moments that you met with Jesus prompt you to rejoice and give Him thanks and praise for all that He has done in your life (Isaiah 12:4-5).
I would like to invite you to pause and pray with me today. Let's seek Jesus this season and let Him speak softly to your weary heart. When we stop searching for the perfect Christmas, we are met with a perfect Savior. Rest in Him today, and let His presence be the promising present of joy for your overwhelmed soul (Romans 15:13).
Let's pray: Lord Jesus, You are the true reason for this season, and I am blessed by the gift of salvation You brought to this fallen world in order to save us, to save me. This time of year, I long to create special memories for my family, but it is so easy to get overwhelmed by the pressure and demands of this season. O God, create in me a heart that wants to be overwhelmed by Your precious presence and etch that within the hearts of my children. Create boundaries in my life that allow me to be filled by Your love so I can freely share Your abundant love with others.
Lord, forgive me where I fail You. The moments I have allowed joy to be stolen from me this season due to the calendar I so quickly fill up with unnecessary events. Show me areas in which I can simplify my schedule and make extra room to be still and quiet (Psalm 46:10).
When those events do come, and we try to bond as a family, I invite You to be the main part of our gathering. Lean in a little closer when I am met with unrealistic or unmet expectations. Speak to my heart and lead and guide me back to Who You are.
Jesus, I am so thankful for Your sweet and precious birth story. I long to be overwhelmed in Your presence this season and all year long.
With love and adoration. Amen.