Today Livestream
MFM Sunday Service 11th October 2020 by Dr. D. K. Olukoya – Livestream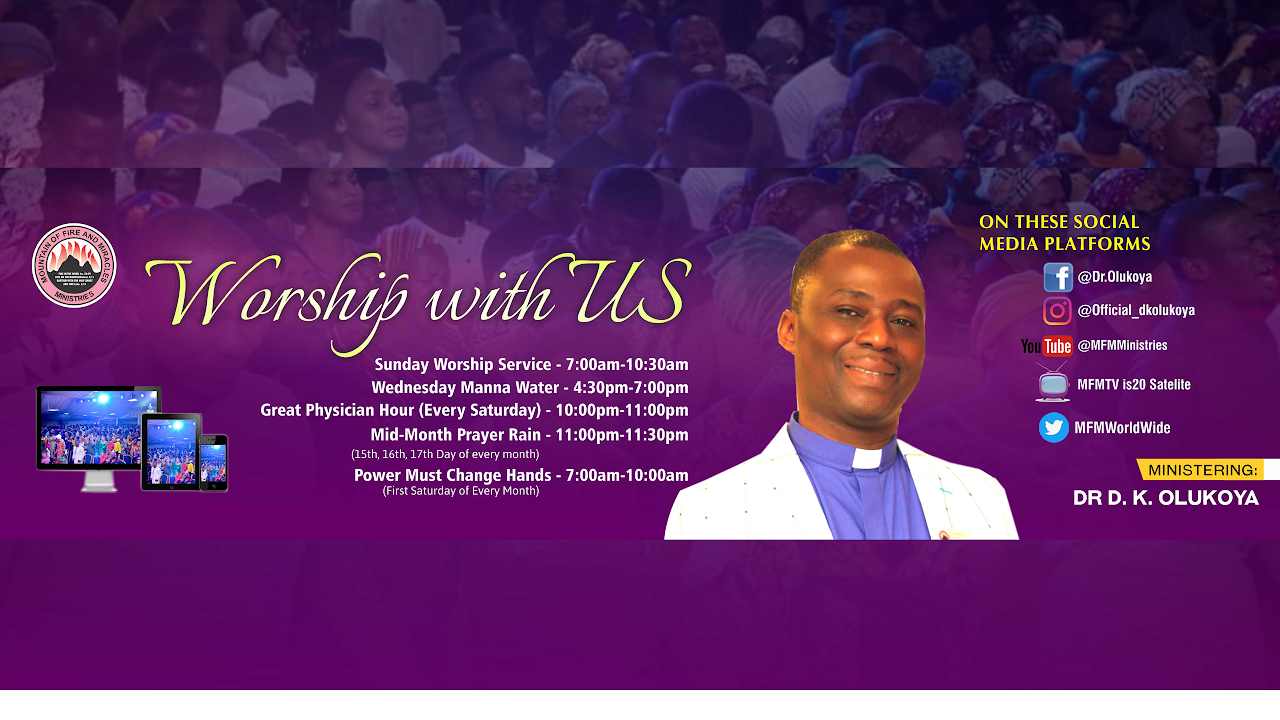 MFM Sunday Service 11th October 2020 by Dr. D. K. Olukoya – Livestream
You are watching Mountain of Fire Ministries MFM Sunday Live Service at 7:00 am with Pastor D. K. Olukoya.
MARATHON OCEAN DIVIDING PRAYERS 4TH OCTOBER 2020 MINISTERING: DR D.K. OLUKOYA (G.O MFM WORLDWIDE)
Watch below;
PLEASE RELOAD FOR SUNDAY LIVE BROADCAST
MFM Sunday Service 11th October 2020 by Dr D. K. Olukoya – Livestream
Please kindly share with other people to be part of this extraordinary LIVE service.
TOPIC: COSTLY MISTAKES TO AVOID
Fire Scripture: Lev. 20:6; 1Sam. 28:5-15
TODAY'S OUTLINE: MFM Daily Devotional 11th October 2020
Our focus in today's devotional centres on certain costly mistakes, which you must avoid. Let me share the story of Brother Paul with you. Brother Paul was once a terrible occultist. He was so powerful in it that he had three birds living inside his stomach. God touched him and he gave his life to the Lord.
He went in for deliverance but forgot that he had swallowed three birds while he was still an occult practitioner.
As soon as he started to pray fire prayers, the birds that were inside of him became troubled as a result of the fire which they were not used to. So they started pecking at his intestine. It got so bad that he had to go in for a comprehensive surgical operation.
CONTINUE READING MFM 11TH OCTOBER 2020 DAILY DEVOTIONAL
Comments
0 comments