Today Livestream
MFM Sunday Service 4th October 2020 by Dr D. K. Olukoya – Livestream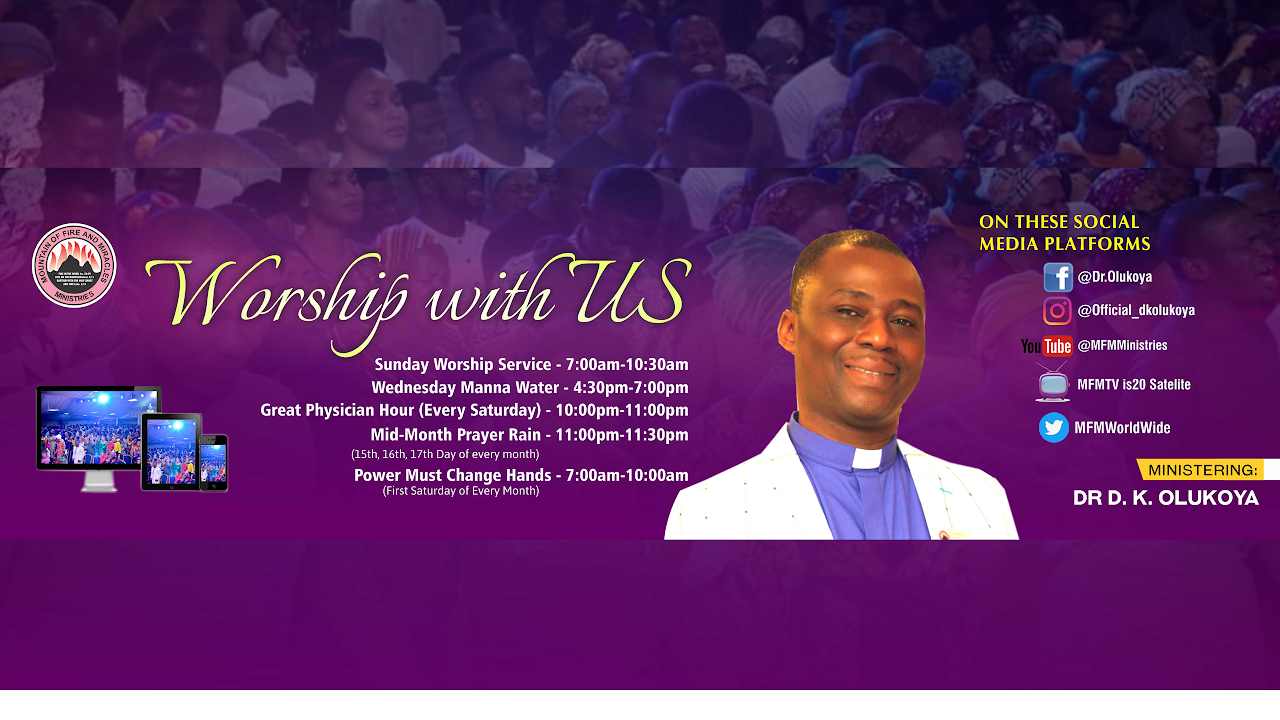 MFM Sunday Service 4th October 2020 by Dr D. K. Olukoya – Livestream
You are watching Mountain of Fire Ministries MFM Sunday Live Service at 7:00 am with Pastor D. K. Olukoya.
MARATHON OCEAN DIVIDING PRAYERS 4TH OCTOBER 2020 MINISTERING: DR D.K. OLUKOYA (G.O MFM WORLDWIDE)
Watch below;
PLEASE RELOAD FOR SUNDAY LIVE BROADCAST
MFM Sunday Service 4th October 2020 by Dr D. K. Olukoya – Livestream
Please kindly share with other people to be part of this extraordinary LIVE service.
TOPIC: WATCH OUT!
Fire Scripture: 2Tim. 3:1-9
1 But mark this: There will be terrible times in the last days. 2 People will be lovers of themselves, lovers of money, boastful, proud, abusive, disobedient to their parents, ungrateful, unholy, 3 without love, unforgiving, slanderous, without self-control, brutal, not lovers of the good,
4 treacherous, rash, conceited, lovers of pleasure rather than lovers of God— 5 having a form of godliness but denying its power. Have nothing to do with such people.
6 They are the kind who worm their way into homes and gain control over gullible women, who are loaded down with sins and are swayed by all kinds of evil desires, 7 always learning but never able to come to a knowledge of the truth.
CONTINUE READING MFM 4TH OCTOBER 2020 DAILY DEVOTIONAL
Comments
0 comments