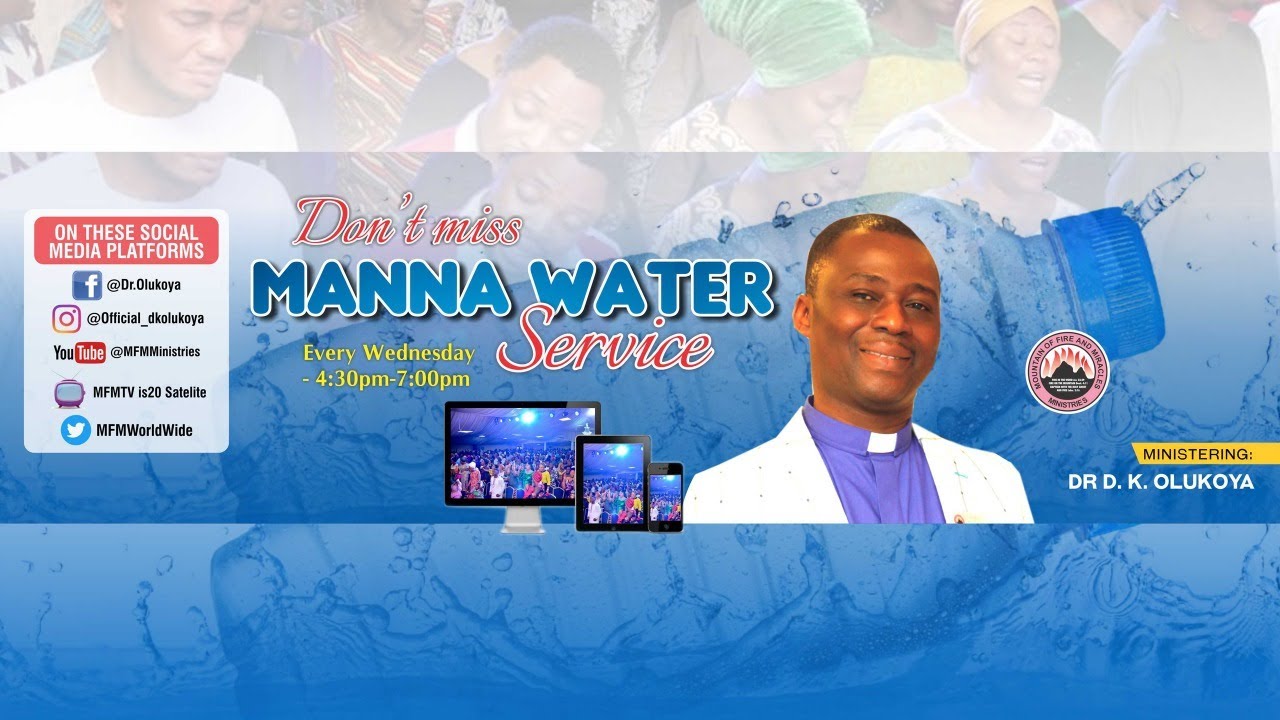 MFM Manna Water Service 7th October 2020 – Livestream
You are watching Today's Mountain of Fire MFM Special Manna Water Service 7 October 2020 Wednesday by Dr. D. K. Olukoya.
Welcome to MFM SPECIAL MANNA WATER SERVICE WEDNESDAY OCTOBER 7TH 2020 MINISTERING: DR D.K. OLUKOYA (G.O MFM WORLDWIDE)
Watch below;
MFM Manna Water Service 7th October 2020 – Livestream
Please kindly share with other people to be part of this extraordinary LIVE service.
TOPIC: SAY NO TO BLACKMAIL
Key Verses: Gal. 2:16-20; Gal. 3:10-14
TODAY'S OUTLINE: MFM Daily Devotional 7th October 2020
Beloved, I welcome you to today's devotional. One thing that the Holy Ghost wants to bring to your notice, today, is that you can say no to blackmail. When you face an obstacle, your right as someone who is reigning like a king is to make the obstacle your servant. You must not allow your obstacle to be your master.
The truth is that unbelief makes many people to be slaves to their obstacles and problems. Always believe that you are the master of your problem. Beloved, as you grow older in faith, are you stronger in rejecting satanic blackmail and destroying satanic attacks.
There is the story of Ayo and Ojo who were living with a master who was one of their teacher. Ayo and Ojo were supposed to look after the ducks owned by the teacher. One day, Ayo mistakenly killed a duck. He decided to eat the duck as a way of hiding the mistake.
His morning duty was to sweep the whole of the sitting room, clean the kitchen, wash the plates, warm the stew and dress his master's children for school, before getting ready for school. On the other hand, Ojo's duty was to make sure that the grasses around the house were well cut and the flowers were all watered.
The first day after Ayo ate the duck, he woke up at 6 a.m. and woke Ojo up. But Ojo told him that he would wake up by 7 a.m. and that Ayo should make sure he helped him with his morning duty, if not he would tell their master that he killed a duck. From then on, Ojo did nothing. Ayo was doing all the work and was growing lean. Sometimes, when they were served their meals, Ojo would eat all the meat.
When the teacher noticed that Ayo was getting lean, he asked him what his problem was. Ayo denied having any problem but one day, he could no longer bear it, so he went to confess to his master and asked for forgiveness. The master asked him how long ago he killed the duck and he said, "Nine months ago." The master said, "Don't worry. I have forgiven you."
So, Ayo slept happily for the first time in nine months. The following morning, Ojo who did not know that Ayo had sorted himself out, woke him up as usual and said, "Have you forgotten that you killed a duck?" Ayo told him to go ahead and report. This is how problems blackmail many people. It just directs their lives and determines the way that their lives should be run even against their will.
Comments
0 comments