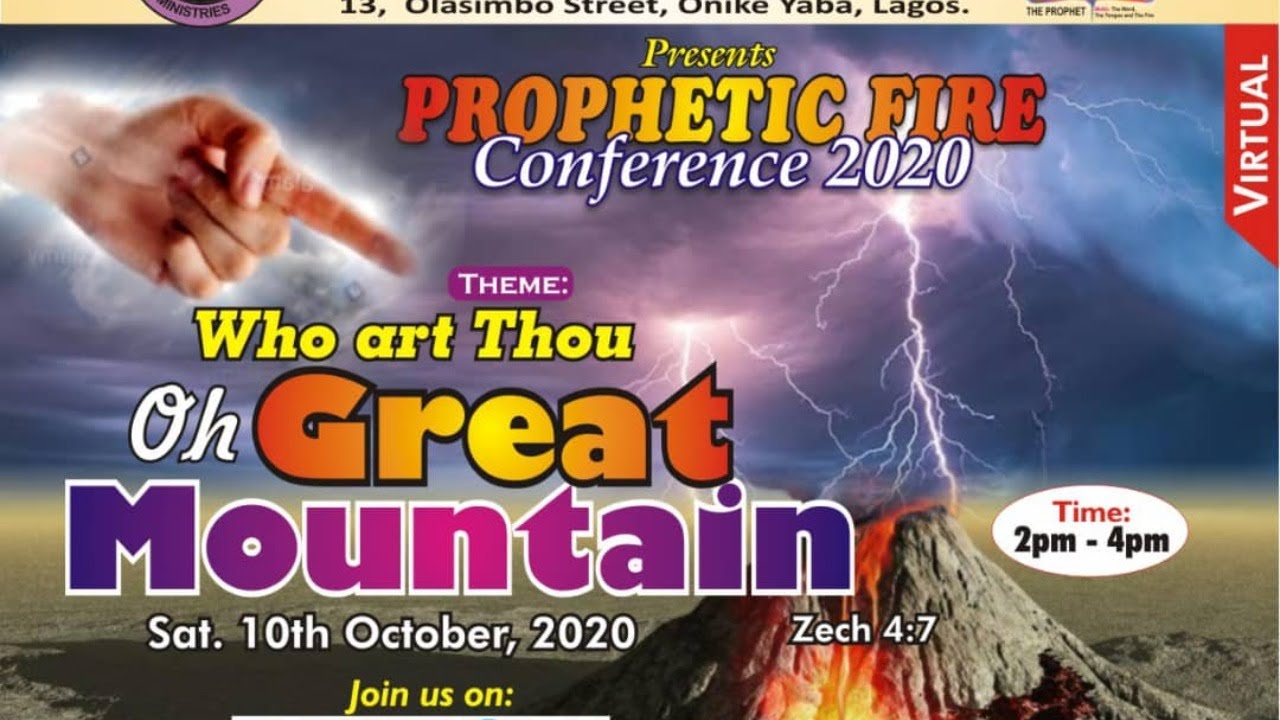 MFM Prophetic Fire Conference 10th October 2020 – Livestream
You are watching the live streaming service today, of Mountain of Fire Ministries by Pastor D. K. Olukoya. Time for the programme is from 2pm to 4pm.
The Prophetic Fire Conference 2020 with the theme, 'Who Art Thou, Oh Great Mountain' Bible Reference is taken from Zechariah 4:7 which says,
'Who are you, O great mountain?
Before Zerubbabel, you shall become a plain!
And he shall bring forth the capstone
With shouts of "Grace, grace to it!" – NKJV
Watch below;
MFM Prophetic Fire Conference 10th October 2020 – Livestream
Also Read Today's MFM Daily Devotional by Dr. D. K. Olukoya
TOPIC: GENUINE OR FAKE?
Fire Scripture: Prov. 9:17; Prov. 20:17; Acts 5:1-11
TODAY'S OUTLINE: MFM Daily Devotional 10th October 2020
God has a message for you today. Read today's devotional carefully. The devil has no free gift. My experience as seen below, will prove my assertion that the devil does not offer any free gift. Sometime in 1975, the parents of a particular girl took a decision to help their daughter who had always fallen sick some few weeks to her secondary school examinations.
She was always healthy until the eve of her examination period. This was why she could not participate in her examinations in 1973 and 1974. Not wanting to continue to fold their arms while the strange problem of their daughter persisted, the parents approached a certain witch-doctor in their village. He told them that their daughter was having persistent problem, because the water spirits were angry with her and they must be appeased.
They promptly bought the sacrificial materials requested for and dumped them into the village river, as directed by the herbalist. As soon as the sacrifice was done, the girl who had been a sickle-cell patient and a failure in all her life became healthy. Not only did she pass her examinations, she got admission into a university. She read law and passed her degree examinations in flying colours. But no sooner had she graduated than trouble started.
Things stopped working for her. She tried everything that she could to reverse her misfortune, but it was all to no avail. In order to get to the root of the problem, the same old village herbalist was again consulted for help.
By the time the herbalist was through with his divination, he was able to establish that the water spirits were angry again because the lady refused to worship them on a yearly basis, as earlier on agreed to. It took the lady a long time before she could get out of the bondage. She had to pass through a very serious deliverance process. Continue Reading…
Comments
0 comments