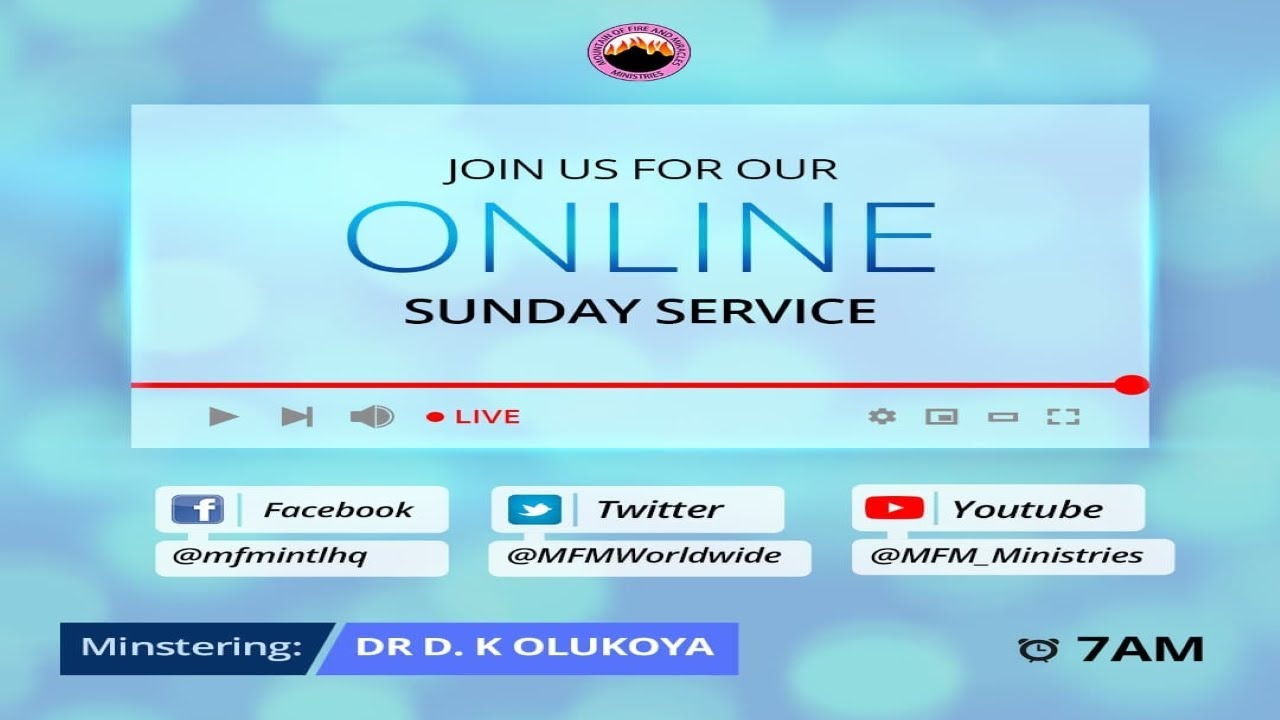 MFM Sunday Live Service 16 May 2021 with Dr D. K. Olukoya
You are watching Livestream of MFM Sunday Live Service 16th May 2021 with Dr D. K. Olukoya from Mountian of Fire And Miracle Ministries Headquarters.
SUNDAY SERVICE 16 May 2021 | MINISTERING: DR D. K. OLUKOYA
Welcome to MFM SPECIAL SUNDAY SERVICE 16 May 2021 MINISTERING: DR D. K. OLUKOYA (G.O MFM WORLDWIDE). Kindly like, subscribe and share with your friends and family. God Bless you In Jesus' Name. Amen
Watch below;
Today's Mountain of Fire And Miracle Ministries MFM Daily Devotional for Sunday 16 May 2021 written by Pastor D.K. Olukoya.
TOPIC: THE POWER OF HUMILITY (III) Click To read Previous MFM Daily Devotional 15th May 2021 Saturday
Fire Scripture: Col. 3:12-13; 1 Peter 5 : 5-7
Outline: MFM Daily Devotional 16th May 2021
Humility is total and complete dependence on God. Pride or loss of humility is the root of all sins, evil and vices that we see today as believers. We must run away from pride. We should grow in humility so that Christ can increase in our lives. The more of Him we have in us, the less of self-greed and all other evil will manifest in our lives.
The human nature is that of pride at every little breakthrough, but to be great indeed, humility is the bedrock of divine greatness. The way to the top is down. All that you have: your gifts, talents, abilities are all given to you by God through His grace.
Can you speak like an orator? Can you counsel like Ahitophel? Can you fight like David and always be in the right place at the right time? All these are from God. Therefore, you have nothing to be puffed up about! They are all from God to be used for His eternal purpose.
When you are humble, God's face will shine upon you. Your humility makes you to be at the receiving end of all good things that will make your life fulfilled, as a Christian leader or follower? Are you serving the purpose of God or your own purpose? Can people around you truly agree that your humility is second to none? Think about it.
You can only be useful to God in humility.
Memory Verse: 2 Chronicles 7:14 – "If my people, which are called by my name, shall humble themselves, and pray, and seek my face, and turn from their wicked ways: then will I hear from heaven, and forgive their sin, and heal their land"
Motivational Quote: Humility is the ladder to divine greatness.
Prophetic Word: God, who gives grace to the humble, shall visit you today, in the name of Jesus.
The Sunday Mass 16 May 2021 Homily – 7th Sunday of Easter