Today Livestream
MFM Sunday Service 27th September 2020 by Dr D. K. Olukoya – Livestream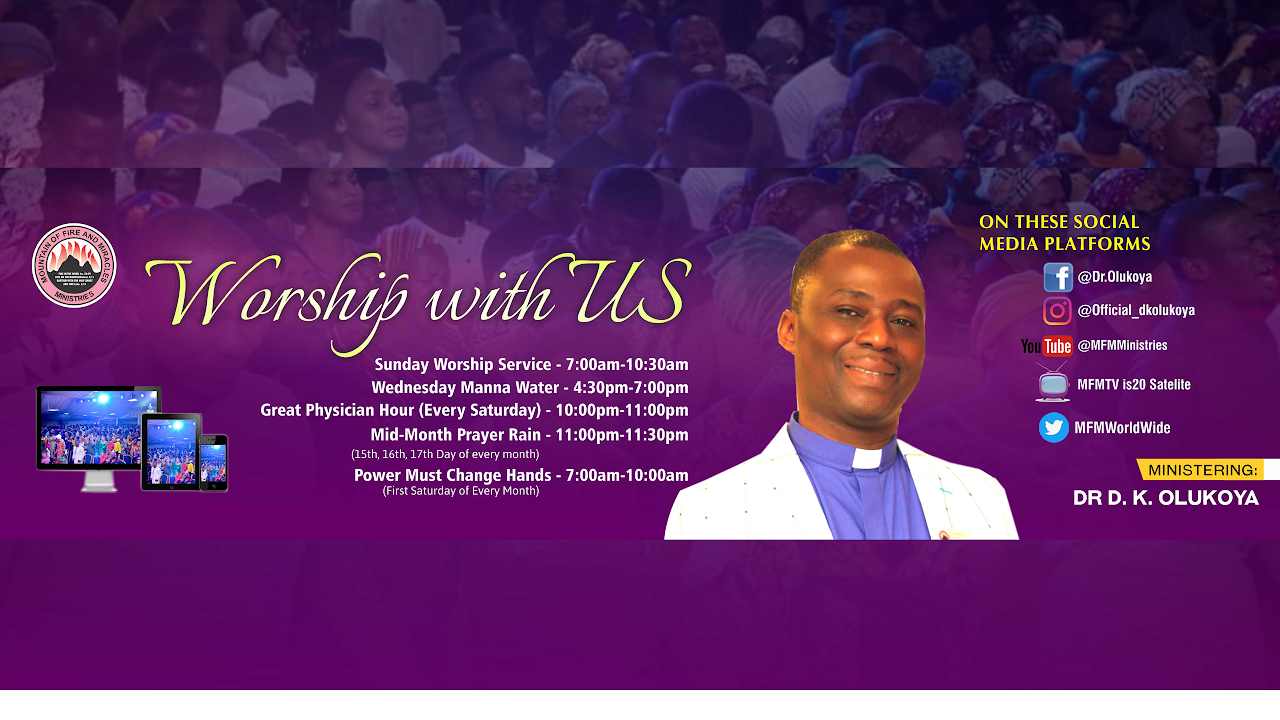 MFM Sunday Service 27th September 2020 by Dr D. K. Olukoya – Livestream
You are watching Mountain of Fire Ministries MFM Sunday Live Service at 7:00 am with Pastor D. K. Olukoya.
MARATHON OCEAN DIVIDING PRAYERS 27 SEPTEMBER 2020 MINISTERING: DR D.K. OLUKOYA (G.O MFM WORLDWIDE)
Watch below;
PLEASE RELOAD FOR SUNDAY LIVE BROADCAST
MFM Sunday Service 27th September 2020 by Dr D. K. Olukoya – Livestream
Please kindly share with other people to be part of this extraordinary LIVE service.
TODAY'S TOPIC: BREAK THAT COVENANT!
Fire Scripture: Isaiah 28:15-18
TODAY'S OUTLINE: MFM Daily Devotional 20th September 2020
Today, we shall learn how to deal with negative covenants. By virtue of our ancestral foundations, most of us are standing on very delicate foundations. A lot of people have been given as promissory notes to evil spirits by their own people without their knowledge.
Once that has been done, the covenant remains binding. I knew a sister who always took ill whenever her school certificate examinations were around the corner. She wouldn't take ill, until it was one week to the allimportant school certificate examinations. The ugly situation continued for a long time.
When the situation defied all solutions, her mother consulted an oracle in her village. The oracle revealed that the sister was having problems because a particular river was hungry. The oracle reportedly asked the sister's mother to buy a bag of rice, a bag of beans, a basket of tomatoes and dump them inside the river.
The mother obeyed the oracle, she went and bought the items and dumped them inside the hungry river. By the next examination, the sister passed in flying colours and they all rejoiced greatly in her family. Meanwhile, the demon of the river kept quiet until the girl had completed her law degree in the university, got married and had her first child.
CONTINUE READING MFM 27TH SEPTEMBER 2020 DAILY DEVOTIONAL
Comments
0 comments