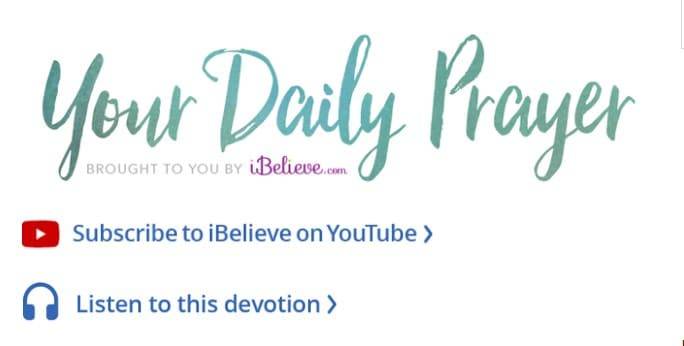 November 24, 2022 Your Daily Prayer For Thursday
Praying is such a vital tool for Christians to take hold of the power and strength God wants to give us. Use our daily prayer devotional to focus your mind and heart on the love of God at the beginning of each day and throughout your day.
Did you miss previous Daily Devotionals; if YES, Read below:
Welcome to Your Daily Prayer Today – A Prayer for Thanksgiving. May God bless you as you study and pray.
A Prayer for Thanksgiving
By Emma Danzey
Scripture: "Give thanks in all circumstances; for this is God's will for you in Christ Jesus." 1 Thessalonians 5:18
Thanksgiving is a wonderful time of the year. As the United States celebrates this holiday of God's provisions, many of us will be cooking casseroles, watching the Macy's parade, playing football in the backyard, and visiting with loved ones. This is not just a gathering, this is an opportunity to live out giving thanks in all circumstances. This is not just God's will for one day a year, but for every day of our lives. As we pray for Thanksgiving may it remind us to be thankful always.
Let's Pray: Dear Lord, Thank You for holidays. Thank you for times when we can gather with loved ones and celebrate all of Your blessings. We pray that this Thanksgiving is a time of great gratitude and love for those around us. Whether relationships are strong or rocky, we are grateful for the opportunity to invest in them and nurture them.
Thank You for the witnessing opportunities that many of us will have with family or friends. Help us not to live in a spirit of fear, but of power and confidence in You. May our words of the gospel be pleasing like honey to them. Would you open their eyes to see the truth and that it will set them free? Jesus, would you please help us to live out the fruits of the Spirit and not to live by our flesh? We pray that we would be a light even in situations that arise which are uncomfortable or hurtful towards our Christian faith in You.
We pray for those who are grieving this Thanksgiving and the table does not feel the same without a certain loved one. Would you hold them near this holiday? Give them strength to make new memories and to be at peace with missing their loved one. Help them not to feel guilty or ashamed of their deep love. We pray that they would not sit in the grief, but that they would be able to find gratitude even in just one thing.
Would You open our eyes to anyone in the community or in our neighborhood who we should invite to our Thanksgiving table? We see so many times that You Jesus welcomed people to the table and ate with a variety of people. May we not forget the powerful witness that this is to You. Help us to let go of selfish traditions and exchange them for new gospel focused opportunities. You say in Philippians 2:3, "Do nothing out of selfish ambition or conceit, but in humility consider others as more important than yourselves." Help us to remember to consider others before ourselves.
Please go before the food that we prepare. Thank You for the opportunity to have such an amazing meal. Please protect homes from fires and burnt turkeys. Please protect little ones from getting burned. Protect those making dishes from any mishaps with knives. We pray protection over every aspect of the meal preparation. Help those who have cooked and worked hard for the meal feel greatly appreciated and valued. It is often an under-appreciated job to do. Give us fresh ways to say thank you to others in the ways that they step in.
Help us to remember the most important thing to be thankful for is You and Your gift of salvation Jesus. The holiday and the food are temporary, but Your forgiveness lasts forever to those who accept You as Savior. Remind us of ways in which You have saved us from the pit and restored us to the Father. Help us to be starters of spiritual gratitude during our conversations and as we eat. Reveal any ways that we try to put You outside of this holiday and focus on lesser things. You are the most important part of Thanksgiving.
We pray that faith in Christ, prayer, and edifying Christian community would be visual examples to the next generation about what we are truly more grateful for even though some years are more challenging than others. We praise You Lord for so many blessings that You have provided for us. Amen.